TMC welcomes Kmama and her blog, The Daily Dribbles. I don't remember exactly when or how I stumbled upon Kmama's blog but ever since we connected, we've been blogging together ever since. Kmama is one of those faithful followers that I don't think ever misses a post at Theta Mom. Since the launch of TMC, Kmama was one of the first bloggers to get on board, spread the news and display the fabulous TMC button on her site with pride. She is such a great blogger to network with, as she engages you with her humorous posts and sarcastic sense of humor. As a mom who totally understands the whole deal about motherhood, she always manages to make me laugh!

Here is how Kmama describes her blog: 
"Hi everybody *waves*.  I'm Kmama.  I'm a wife to my amazing husband, Jdaddy, and mom to two amazing little boys.  Buddy is 5 years old and Buster is 2 years old.  My boys are the light of my life.  In addition to being a wife and a mother, I'm also a full-time working woman outside the home.  Needless to say, I'm very busy!!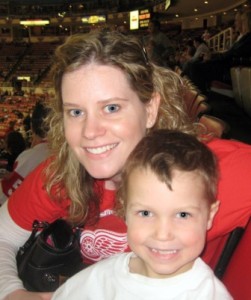 The Daily Dribbles began much like a lot of blogs.  I was looking for a way to update family and friends on the happenings of our busy lives.  However, as time went on, I found that when I got really creative with my writing or really let things out, I would receive more comments from people who happened upon my blog.  Soon, I started to achieve followers, and those followers encouraged the creative side of me.  Nowadays, if you stop by my blog (which I really hope you'll do!), you're most likely to find some humor and sarcasm, which are two of my most favorite personalities."
Be sure to show some TMC love and visit Kmama on the blog and follow her on Twitter!