Today's featured blogger is Mary from The Mommyologist. Mary had just started her blogging journey about the same time that I moved to WordPress. Since then we've been blogging together ever since. She is a supportive blogger who knows how to put fun back into motherhood and her recent quest is starting the mommy movement to bring "Mom Sexy" back! And when you read how Mary describes her blog, you will see that she is a total Theta Mom, one of the many reasons I adore her blog:
"My name is Mary and I have been a stay-at-home Mom for a little over four years.  I have an absolutely adorable little boy who is a complete and total future comedian in the making!  He keeps me on my toes and reminds me everyday of what is truly important in life.  He is my whole world, and I feel honored to be his mother.  And being a mommy is wonderful, but I had a much more difficult time making the transition from career woman to diaper changing diva than I thought I would!
Before I had my son, I was a meeting planner and was always jetting off to some exciting city and staying in beautiful hotels and going out to fancy dinners.  When I became pregnant, my husband and I made the decision that my career just wasn't conducive to life with a child, so we made the decision for me to give up my job and stay home.  It was definitely the right decision, but it proved to be a huge adjustment for me.
All during my pregnancy, people kept telling me what a blessing having a child was and how everything was going to be perfect and how I wouldn't be able to imagine my life before I had that child.  They were right, motherhood IS a blessing, and I TRULY loved my child more than anything else on the face of the earth, but things were definitely NOT perfect, and for a while, I found myself sort of "mourning" my old life.  I missed sleeping through the night.  I missed taking a shower every day.  I missed being able to sit on the couch and read a magazine whenever I wanted.  I missed going out to dinner and sharing a bottle of wine with my husband. And the fact that I missed my former free-spirit self did not mean that I loved my baby any less.  But it sure made me feel like a failure as a mom.  I had never felt so guilty about anything else in my life up until that point.
It wasn't until I started talking to some of my girlfriends who'd had babies that I realized that the feelings I were having were pretty much the norm, it's just that no one really talks about them.  It's almost like people live in fear of bursting a pregnant chick's bubble, so they hold back some of the nitty gritty details and just elaborate on all the sugar coated stuff. 
And then when women deliver their babies and are experiencing some of those "not-so-rosy" feelings, they keep them hidden and instead talk about "how GREAT everything is" instead of revealing the REAL story because they worry about being judged by other moms. I firmly believe that if mothers were more open and honest with each other about the changes in life that come with having a child, then we would feel much less isolated and alone.  We need to band together instead of turning motherhood into a big competition!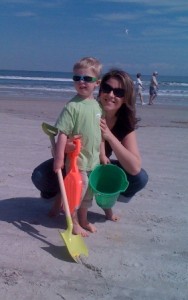 My goal in writing The Mommyologist is to provide a "go-to" place where mothers and women in general can go to take a break from their hectic day and get a much needed laugh.  I believe that by sharing my stories with other women and laughing at myself, that I have the potential to save some other new moms a few sob-sessions along their journey.  If I can help one mommy out there feel a little bit better about her situation and feel like she is not alone, then I've more than accomplished my goal in writing this blog.  I tell it like it is, and sometimes I am probably a bit too honest for my own good, but I'm sticking to my guns and going with the whole honesty vibe. I hope that you'll stop by and laugh with me!"
So be sure to show her some TMC love on the blog and follow her on Twitter!