Most of my posts usually have some sort of purpose but sometimes there are many ideas stirring in my head that I want to share. However, these topics have absolutely no connection to one another. So this is my week in random:
I was watching the Today Show recently and found out that Hello Kitty, the brand that I grew up with as a child is actually now in the market of selling wine. Have you seen this?

Yes, that's right. The same Hello Kitty that I begged my mom to buy me every time we went to the mall. The name of the store was called Pandemonium which was about the size of a jail cell and every square foot of that place was full of Hello Kitty crap. You couldn't even move in that space because it was so over stuffed with STUFF. I would annoy my mother every single time we went to the mall because I just HAD to get my Hello Kitty fill. Basically, what I lived on as a kid with all of the pens, stickers, albums and glitter – things I'll probably be buying for my own daughter soon – is now selling wine. Honestly, I'm still not sure what to make of it all. Hello Kitty. Wine. Really?
Monday was one of the most amazing days of my bloggy life. I was the featured blogger at SITS and the comment love that poured in still overwhelms me. I am in awe. It will take me quite some time to get to those 300+ fabulous blogs that shared some love with me. But if you found me through SITS and have returned to Theta Mom again, I heart you!
Spring is finally here. And you know what that means? Life is so much easier getting the kids ready in the morning. I don't have to dress the kids in the twenty pounds of winter gear or warm up the car. I don't have to wipe my daughter's nose every five seconds. I can actually get outside with the kids and not go so stir crazy in the house. (I'll just go crazy outside). Spring fashion, cute shoes, pretty flowers, it's all good…but the #1 reason I love Spring? It's when we fire up the grill.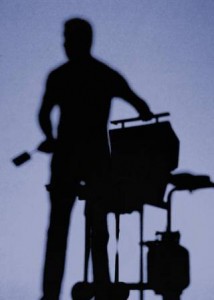 Because warmer weather + hubby + grill = NO cooking for Theta Mom. And that my friends, is priceless.
And I cannot believe it's April already because it feels like it was just New Year's Day! Spring Break has officially arrived and the holiday is here which means my son is home from pre-school all next week. Every day next week. On second thought, that Hello Kitty wine isn't sounding all that bad now…
Finally, to the BEST readers and followers in the blogosphere – wishing you and yours a safe and wonderful holiday!