TMC welcomes Christine, author of the blog Coffees and Commutes. Christine joined TMC right at its inception and has been such a huge supporter of Theta Mom! Ever since she has found TMC we have been blogging together and I really enjoy her posts because they range from all kinds of topics – including those about being a working mom or simply the role of motherhood itself. Here is how she describes her blog in her own words: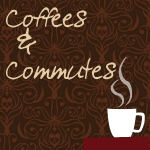 "I'm Christine. I'm a full-time communications professional and mom to two boys trying to balance career, parenthood, marriage, and a sense of self. I love all four but struggle because they compete with one another. Can't we all just get along?
Coffees & Commutes is where I write whatever is on my mind. It's constantly evolving, changing and growing as I change and grow. There is no specific formula. Sometimes I write about self-discovery and my inspirations and other times about being a mother and surviving life with children. It's a place for me to discuss my thoughts and observations on all parts of my life, though I admit my children tend to dominate. Some call it navel gazing, I call it soul searching. Either way, it helps me get by. That and a Starbucks thrown in as often as possible for good measure!
When I first started blogging two years ago I had no purpose, no idea what I wanted my space to be. I was curious, but hesitant and unsure. I wrote random posts about everyday experiences. They weren't a reflection of my real self. They were more a series of stories, safe and under-explored. Fast forward more than a year to when I found my writing voice. Now with every post I write I uncover a better understanding of myself and make connections that make a difference in my life. This is what it's meant to be, a place to find meaning and comfort through the sharing of words, experiences and life lessons. It's a rich opportunity, one that has become an integral part of who I am.
I hope you'll stop by and offer your own perspective when you visit. I learn from, and am often inspired by, everyone who does."
So be sure to show Christine some love on the blog and follow her on Twitter!