TMC welcomes Loukia, author of the blog Loulou's Views. Loukia is one of those bloggers that I instantly connected with the moment I visited her blog for the first time. She has such an adorable blog design and she blogs about topics that always relate to me. Loukia is also a very personable blogger, very reflective of motherhood and her family experiences. And she always adds the best pictures to her blog, too! Here is how she describes her blog in her own words: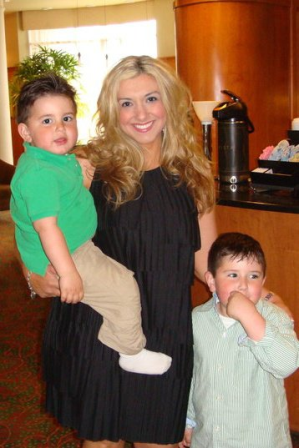 "My name is Loukia – aka – Loulou, and I'm a married mom of two amazing little boys. My boys are the loves of my life! I have been blogging for over three years now, and I love it – I love writing about my adventures as a mom, about my boys, about the situations I get myself in (like almost dying while going for a Mystic Tan!) and I love to give advice on topics like travelling with children, shopping and providing tips for new moms. 
Aside from being a full-time, 24 hours a day mom – the hardest and most amazing job ever – I work full-time in the federal government in Communications. Before working for the government, I worked in television and radio, both on-air and behind the scenes. I also interned at Entertainment Tonight and at CBS TV. Nothing beats the excitement of a newsroom – until you have kids! Then the excitement is never-ending!
I love to blog because I love to write – and through blogging, I have met some amazing, incredible people – it's truly such an awesome community! The support, the comment love, the stories, the connections… I'm looking forward to meeting you! (And I'll also be at BlogHer this August in NYC – so let me know if you're going to be there, too!)"
So be sure to check out the blog and follow her on Twitter!
New to TMC? Join us! We LOVE new members!