TMC welcomes Brittany, author of the blog Mommy Words. Brittany has been a faithful follower and supporter of Theta Mom from its inception. We originally found each other on MBC and we have been great bloggy friends ever since. She was actually one of the reasons I jumped ship to WordPress using the Thesis theme. Brittany writes to most amazing DIY posts and she is one of those bloggers that once she connects with you, she'll support you all the way. Here is how she describes her blog in her own words:
"Hi, I'm Brittany, and you are my support group just as I am yours. Yes, if there were meetings for crazed mothers where I could meet fabulous women while laughing, crying, bonding, watching my kids and having an occasional glass of wine I would be there introducing myself on a regular basis. When I figured out that no such wonderland exists I found I could make this crazy dream come true on the Internet.  I started writing Mommy Words to introduce myself to you and share my world with the hope that I would make real connections and life-long friends. It worked! I have found so many lovely friends, talented writers and fabulous mothers while blogging. I got more than I ever expected from this journey and it has just begun.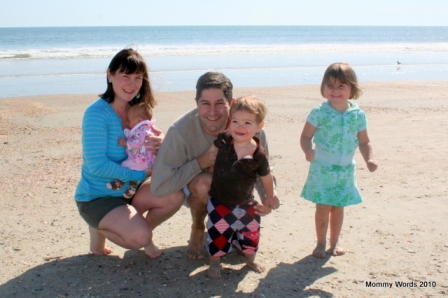 I started blogging here and there more than a year ago but things got crazy enough that I had a regular need to write things down for the Internet in the summer of 2009. Since I began writing I added my third child and stepped up the circus that is my life! I have a great husband and three ridiculously cute and hysterical kids aged 3 and under. Sophia is 3. Miles is 2. Violet is just 4 months old.  I am a busy mommy!  I left my job in investment banking to stay home when I had Miles and I have never looked back at those 80 hours a week. I am now exhausted and totally satisfied working the 168 hours a week that Motherhood requires. Double the hours, double the fun right?
I blog about all that is Motherhood and then some. I, like you, am more than just a Mom and I write about things that are in my life, on my mind, expanding my heart.  I am totally open so beware…you may laugh or cry with me. You may also feel the urge to open your tool box or craft cupboard. Why?  I also throw in detailed How-To's when I tackle DIY projects like building furniture or creating gorgeous flower arrangements for a shower.
Being a mom means multitasking and when I find something that works I will let you know!  I am officially adding blogger to my list of jobs (like motherhood, unpaid) and will begin a series on blog design and organization this summer. I built my blog myself, learning WordPress into the wee hours of the morning, and I am proud of it.  It still has a long way to go, but I like to learn how to do things myself (while I am a Theta Mom I am type A all the way).  I get a ton of questions on blog design and coding so I figure I may as well post my tips and resources for everyone! Right now my blog is like my life – you never know what you're going to get…but I hope you like it. I can't wait to meet you, to blog with you and tweet with you, I can't wait to get to know you and your world.  I hope you stop by!"
Be sure to check out the blog and follow her on Twitter!
New to TMC? Join us! We LOVE new members!