TMC welcomes LZ, author of the blog My Messy Paradise. I can't remember exactly how LZ and I found each other but once we did we have been blogging together ever since. She was another one of those bloggers first to jump on board the TMC train and LZ was also an integral part in my move to WordPress. I emailed her with tons of questions and she was so helpful! She also motivated me to begin my own Facebook page for Theta Mom and was one of my first "fans." She recently got an awesome new blog design which looks totally fabulous so be sure to check that out, too! Here is how she describes her blog in her own words: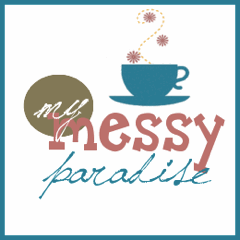 "I'm LZ, and I blog at My Messy Paradise. I started writing simply to give me something fun to do and to document all the things I could forget about raising my girls. Speaking of which…I have 2. One is 5 1/2 and the other will soon be 3. They are awesome! I've been married for 7 1/2 years to Joe, who I picked up in a bar (10 years ago) with a cheesy line – true story. I live in Massachusetts, but am almost certainly relocating to North Carolina in the next few months. A scary yet exciting change for me, as I currently live 9 miles from the house I grew up in.
Blogging, social media and the friends I've met have truly helped me stay sane in the 5 years that I've been a mom. Some of the friends I've met in real life have become so dear to me that I feel like I've known them forever. Others, I know I'm going to feel that way about when I get the chance to meet them."
So be sure to check out the blog and follow her on Twitter!
New to TMC? Join us! We LOVE new members!