Motherhood – this road has not been easy but may just be one of the most rewarding jobs on the planet. It's the most absolutely underpaid gig around and a challenge at every moment but certainly worth the hard work and sacrifices made on a daily basis.
When I found out I was going to be a mother life suddenly looked different. I now had someone else to think about other than myself; someone else to love, care for, worry about endlessly and protect.
In an instant I was a brand new mom and had all of those "new mom" worries, the same kind of fears pregnant moms have when they are preggers for the first time – I know this may sound silly but for me, one of them was feeling a bit nervous to take the baby out for the very first time. Our first outing together (with my less-than-week-old-son at the time) was to the bank and CVS. I carried him around in that little car seat bucket and I was apprehensive to be out with the baby all by myself. What if he cried? What if he pooped? What if I couldn't calm him down and how would I be able to handle it alone?
Little did I know I would face so many more 'real' challenges ahead such as dealing with his shaky health. My son was a very sick baby and for over a year not one specialist could tell us what was wrong with him. Especially as a new parents, it was one of the most difficult experiences we had to face but it certainly aligned our priorities in a heartbeat.
Now when I think back to that first outing with him as an infant, I laugh at how I 'worried' so much about the smallest things – I remember thinking how people seemed to be driving too fast and I felt as though they needed to slow down because I had my baby in the car. Didn't they know? Didn't they realize? I had an infant in the car and how dare they drive so recklessly! That's right. Just one outing with my less-than-week-old-son and the world as I knew it had changed on so many levels. Forever.
I began this blog to begin the dialogue of what it means to be a Theta Mom. I wrote a Mission that has been supported by many – and this Mission continues to touch the lives of thousands of readers.
Why?
Because the idea of redefining the role of motherhood resonates with you. You get it. YOU are authentic. You know that this motherhood gig is not always easy and certainly not glamorous – but at the same time you know it is one of the best jobs you will ever have.
I make tons of sacrifices.
I fight with pure abandonment.
I protect without hesitation.
I honor with all my heart.
I love and support unconditionally.
I worry. And worry some more.
I've encountered tons of sleepless nights, midnight feedings and 8,259 diaper changes.
I wipe noses, butts, faces and countertops.
The.wiping.never.ends.
I juggle 5,000 things all.the.time.
I balance family, work and life.
I somehow manage to make this all work. Somehow.
I strive to nurture my inner self.
Motherhood is a wonderful extension of who I already am.
I will never lose sight of what is important to me.
I know who I am.
I know what I value.
I know what I want to teach my children.
I continue to dream big dreams for myself and I work at being a role model to my kids.
I make mistakes, many mistakes.
I am far from perfect.
I try and learn from those mistakes and become a better parent in the process.
I want to raise intelligent, mindful, well articulated, caring human beings.
I want them to make a difference in this world.
I want them to chase every single dream no matter how big or small.
I want them to love unconditionally.
I hope that when they leave this Earth, they can say that they lived a full and blessed life.
I hope they know how much their mother loved them, cared for them and honored them.
I hope they fulfill their wildest dreams…every single one and I hope I am alive to witness them all.
I wish nothing but health, happiness and prosperity – every day of their lives.
Yes, motherhood has changed my life.
I have been forever changed – for the better. 
I am proud to be a Theta Mom and I am so glad you are on this journey with me.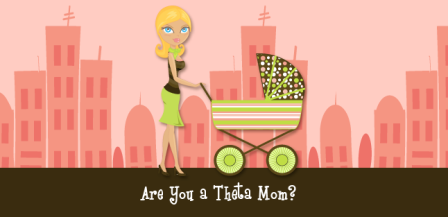 If you wrote a "Proud Theta Mom" post be sure to link up and visit other bloggers! The Linky will be up live through Friday so be sure to participate for your chance to win the Modern Bird Studios giveaway! And thank you to everyone who has joined me for this special milestone and to all of the readers who continue to read and support this blog.
Powered by Linky Tools
Click here to enter your link and view the entire list of entered links…