This is Rocket, my son's absolute favorite thing in the entire world since my mom bought it for him a few years ago. Ever since he saw the show he had to have a "Little Einstein" rocket of his own. Once it landed in his hands life has never been the same.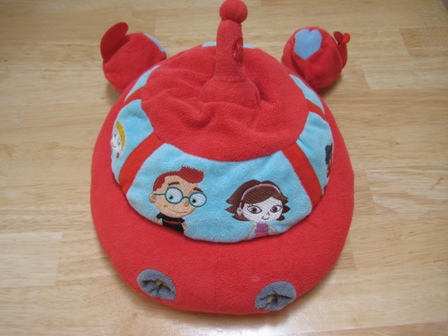 My son recently spent the night at my parents' house. We packed the car and returned home and as we were getting ready for bed I had that epic parent fail feeling – this was going to be of nuclear meltdown proportion on so many levels because we forgot Rocket at my parents' house and they live over an hour away.
I didn't know how I was going to break the news to my son. What was I going to say? How would he take it? I braced myself for buckets of tears, tons of whining and just lots of sheer sadness…
We reached his bedroom and I pulled the covers back as he began to climb into bed. His eyes soon wandered around his room looking aimlessly for his beloved Rocket.
I took a breath.
I took another breath.
Before I could even begin to soothe him with some mothering words in a gentle voice he said quite calmly, "Mommy. You know what? We forgot Rocket at Grammie's house."
I took yet another deep breath. "I know sweetheart, and I know you must feel sad right now, but…"
He interrupted me. "It's ok Mommy. I don't need him tonight anyway."
I stood there motionless.
"I'm turning five soon you know. I am a big boy like Daddy says." And with that he kissed my cheek, pulled the covers over his body and said goodnight.
And that was it, like he never even needed Rocket.
I was stunned and selfishly (I know this may sound crazy) somewhat disappointed. I was waiting to be THAT mom to give him the hugs he needed and to make him feel all better. I was prepared to ease his pain and calm him down. I anticipated a real heartfelt conversation as I wiped the tears away but instead, I left his room thinking that his toddler days will soon be over – and I have no idea where the hell the last five years went.
You could say I was the one with the nuclear meltdown that night.
Because I miss Rocket.