Men's Wearhouse was founded in the early 1970's by George Zimmer. The very first store opened in Houston, Texas and by the late 1990's this company was operating numerous stores from coast to coast. Men's Wearhouse is committed to offering customers the highest quality professional clothing at affordable prices including expert tailoring, perfect fit and outstanding service which makes this brand truly stand out among some of its competitors. My husband was given a fabulous opportunity to put this commitment to the test…
We recently visited our local Men's Wearhouse store. As we entered, we were warmly greeted and immediately given one-on-one assistance. Men's Wearhouse wants to be your clothier for life and with such immediate and great service we understand why this company has been so successful in forming real relationships with its customers.
We met one of the store managers and he gave us a brief overview of the Men's Wearhouse philosophy. He was so knowledgeable and informative. My husband and I knew any question would be answered accurately and honestly about the store, the clothing and the brand itself. And so, the Men's Wearhouse experience began. First, the store manager properly measured my husband for a comfortable fitting…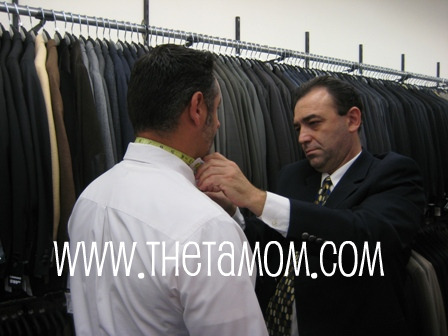 He then started to select some suit jackets for my husband to try on. Based on what my husband was looking for in terms of color, style and cut, the store manger selected various suit jackets in different colors, cuts and styles that he thought would be a perfect match for my husband…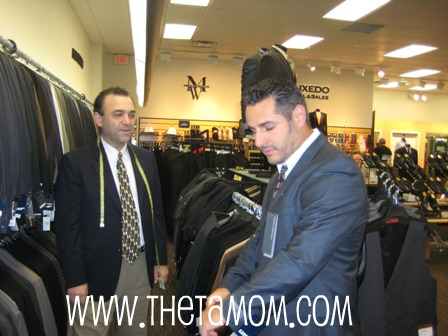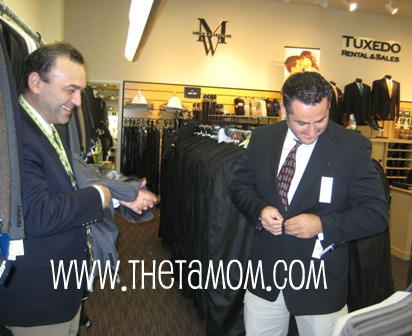 And after a few tries, my husband actually had a hard time choosing! They all looked perfect on him! But when he finally found the one, he knew it was the "right" look for him. And since we had our son with us, the store manager didn't want him to feel left out so he grabbed a suit jacket especially designed for children and helped him to look just like Daddy. My son was thrilled!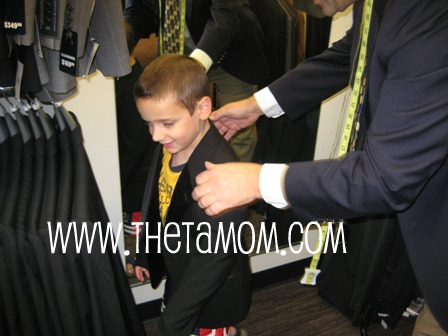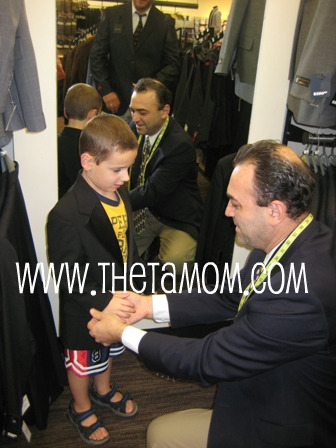 "A future Men's Wearhouse client…"
So, after my husband chose the perfect suit jacket the store manager grabbed the matching pants and my husband was off to his official fitting at the back of the store. An expert tailor came out to accurately customize the suit to fit my husband's body. Once his fitting was complete, we then met with the store manage again at the front of the store to review all of the other suit options. This included various shoes, shirts, ties and accessories. The store manager worked with us to pick and choose that perfect "look" that my husband was going for. Each option was laid out on the table with an explanation and things to think about…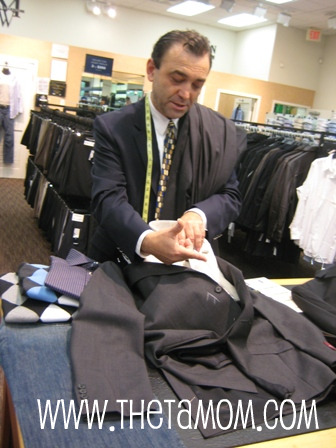 This is what you call excellent service. The store manager was there to answer all of our questions and provide sound advice, especially when we couldn't make a decision on our own! And in the end, my husband looked awesome.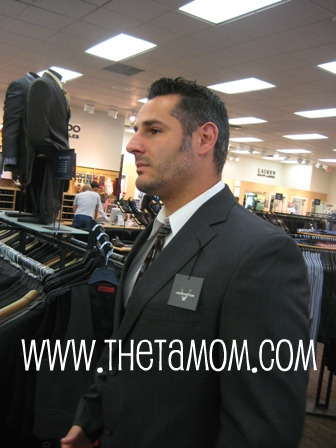 You can find a Men's Wearhouse store near you here and follow Men's Wearhouse on Twitter and Facebook.
The other reason I am so excited to share this post with you is because Men's Wearhouse is hosting the third annual National Suit Drive during the month of September.

Men's Wearhouse is partnering with over 200 nonprofit organizations across the country and during this event, every Men's Wearhouse and Men's Wearhouse & Tux stores will act as drop off locations for used professional clothing. This drive will provide men in need with the appropriate professional attire to transition back into the workforce. For many of these men in crisis, the clothing they receive from this National Suit Drive will give them a boost in confidence. Simply knowing that they will be appropriately dressed will assist them as they embark on the road to new opportunities.
Men's Wearhouse knows that this kind of impact made by helping these men will in turn affect their families and communities in a positive way. Clothing donations collected from every Men's Wearhouse store is then directed to local nonprofit organizations. To find a non-profit near you benefitting from National Suit Drive, click here:
You know I love comments and I look forward to hearing some feedback on this review. Moreover, what I would love, love, love for you to do is help to spread the word about The National Suit Drive – a great cause hosted by Men's Wearhouse. You can simply copy and paste the following to tweet:
Visit local @Mens_Wearhouse store to drop off used clothing for National Suit Drive event. Details @ThetaMom http://bit.ly/bkFBBi Please RT
So not only is this a company my husband will visit again and again based on this amazing experience, but this is a company we can both proudly say is living up the their commitment and full expectations: offering customers the highest quality professional clothing at affordable prices including expert tailoring, perfect fit and outstanding service. In addition, this is the kind of company that is hosting a National Suit Drive to give back to those who need it most – and really, what's better than that?
Theta Mom was contacted by Men's Wearhouse and provided a $750 trade certificate to shop at Men's Wearhouse in exchange for publishing a piece about the Men's Wearhouse experience. These are my own, honest opinions reflective of my husband's experience from a recent visit to our local Men's Wearhouse store.