Theta Mom proudly welcomes The Vintage Pearl which began in 2007 by Erin Edwards. As a SAHM mom of four, Erin began creating jewelry as an outlet which started as a small business. However, when you discover and own a piece of jewelry from The Vintage Pearl, you will immediately understand why this business has grown immensely over the last four years.
In September 2010, Erin went from a very small shop to storefront retail store owner in Oklahoma and couldn't be more thrilled. Every piece is made entirely from sterling silver and The Vintage Pearl only uses the finest materials to complete their designs. You will find this throughout the chains, rings, and other pieces offered unless it is noted in the description on the website. In addition, each letter is hand-stamped making every piece truly unique!
I know many Theta Mom readers are avid Vintage Pearl fans. Once you find Erin's site, trust me, you'll be hooked and you'll certainly want a piece to call your own. When you shop the site, you will find everything from precious keepsakes to gorgeous bracelets and of course, I would love to share with you some of The Vintage Pearl's latest creations! Erin does a fantastic job creating new designs and she updates the site on a regular basis. She does an excellent job of keeping us coming back for more.
I adore the new Vintage Scripture Necklace: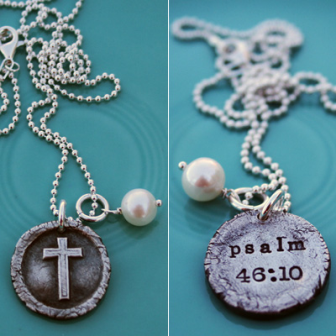 What I love most about this design is that you can stamp your favorite scripture on the back. This is the perfect reminder of something you're praying for and it even makes the perfect gift for a friend in need. This is a great example of what makes The Vintage Pearl so special. Each piece really reflects a unique feel.
Another new product is the Vintage Peas in a Pod: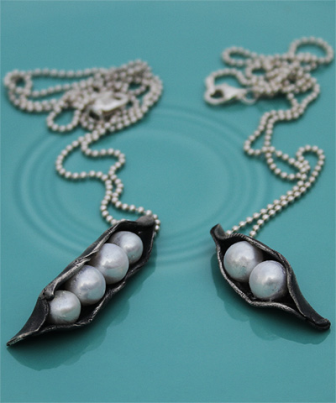 You can actually customize this necklace by adding a name charm or initials. And the Monogram Necklace is an all-time classic. Customizing this necklace makes this a go-to piece that never goes out of style. It's a staple that could be added to any wardrobe.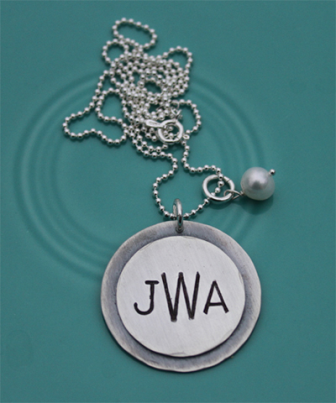 And what better time than now to own a piece from The Vintage Pearl because Erin is offering an additional 10% off your entire order, exclusively for Theta Mom readers through the end of February! Enter the code THETA10 at checkout.
Whatever you purchase from The Vintage Pearl will stay in your collection for life which really makes her business so timeless. Become a fan of The Vintage Pearl on Facebook to stay updated on the latest designs and discounts and of course, follow The Vintage Pearl on Twitter. Erin also created a blog so you can read about her creations more in-depth and her experiences as a mom turned business owner.
Theta Mom® abides by word of mouth marketing standards and believes in honesty of relationship, opinion and identity. The Vintage Pearl is a proud sponsor of Theta Mom and I was compensated for this post. However, all opinions expressed are purely my own and the content of this post was not influenced in any way.