Lauren Nicole Gifts began in 2004 and is designed and lead by Denise Freidhoff. As a woman-owned brand specializing in personalized jewelry and monogrammed gifts, Denise's husband is also an integral part of the business. As an active-duty member of the military he is also known to cut and form the silver pieces that are used in each hand-stamped design. Because Denise and her husband move around quite a bit due to the nature of his job in the Army, Lauren Nicole Gifts maintains its business solely online so that they could still operate in the midst of moving across the country at various times.
The product line includes well known hand-stamped jewelry, wax seal jewelry and many other unique designs. In addition, many of the pieces can be customized with names, dates or initials. All of the jewelry at Lauren Nicole Gifts is hand made to order. Many of the designs are crafted right in their studio using hand-casting fine silver (which is actually better than sterling) and of course, personalized to order.
I simply adore the Hand Stamped Silver Jewelry and Gold Mommy Necklaces: What better gift for a Theta Mom or someone special?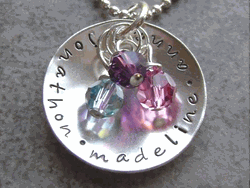 If you want to sport the whole family around your neck, then you need to check out the Family Jewelry which is a very popular item throughout this line. You can add as many charms and pendants as you would like and the best part is that you can customize this piece to your heart's content! You literally end up with a complete design all of your own.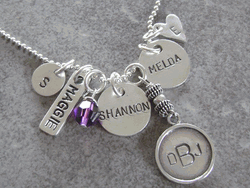 And the personalization does not stop there. You can certainly design something for yourself (perhaps with your children's initials) so you can carry around a little piece of them with you! This line includes necklaces, bracelets as well as charms. The Pure Silver Handmade Wax Seal Jewelry is beautiful and of course, made to order. These specific pieces are crafted by hand using pure silver with wax seal stamps. In addition, the silver has a satin matte finish giving it a completely polished look.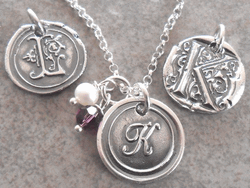 Another favorite aspect of this site is where you can actually Design Your Own Necklace with different charms and chains. You can customize any pure silver and sterling silver charms and chains so that you can build a unique necklace or add charms to an existing one for a new look! This truly gives the consumer a unique experience, making it a perfect gift for someone special.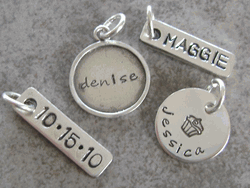 Denise prides herself on customer service and commits herself to ensuring that each piece is designed just as requested. Having each order crafted on demand keeps this business growing!
Lauren Nicole Gifts offers a little something for everyone from Monogrammed Badge Reels to Wedding and Home Gifts and now is the perfect time to purchase because Denise is offering a special discount to Theta Mom readers: 15% off your entire order with the use of the following coupon code entered at checkout: FACEBOOK To stay updated on the latest designs and future discounts, be sure to follow on Twitter and "like" Lauren Nicole Gifts on Facebook.
Theta Mom® abides by word of mouth marketing standards and believes in honesty of relationship, opinion and identity. Lauren Nicole Gifts is a proud sponsor of Theta Mom and I was compensated for this post. However, all opinions expressed are purely my own and the content of this post was not influenced in any way.