Over the weekend I totally earned the title of Cool Aunt of the Year Award. In fact, my sister-in-law earned Cool Mom of the Year Award because together (along with my other sister-in-law) we took my thirteen year-old niece and seven of her BFF's to NYC.
We took them ice-skating in Rockefeller Center, shopped in total NYC style, ate at a fantastic Italian restaurant and topped it off with a trip to NBC's candy store. Does it get more awesome than that?
Cool Mom and Aunts of the Year: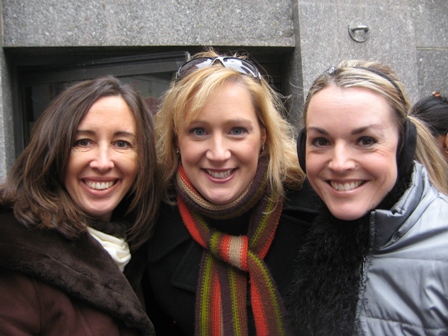 I recently read somewhere that the average material gift someone gives you has a shelf life of about 6-9 months. Basically, within a year of receiving that gift we thought was so special upon opening actually begins to fade away over time. However, the gift of sharing an experience with a loved one lasts much longer than a year. In fact, THAT is the kind of gift that memories are truly made of.
When I turned twelve, my parents took me to see my very first Broadway show. We saw Cats and did the whole dinner and theater thing together. To this day, it is one of the most memorable birthdays I've ever had. It was an experience that I shared with people I love and that's exactly what my sister-in-laws and I were hoping to accomplish as we ventured into the city with these eight young teenagers.
As I wrote about before, Rockefeller Center is very special to me. It's now confirmed that this experience will be added to the Rockefeller Center memory bank.  I can't tell you how excited these girls were to actually be in NYC and skate in that infamous rink. They were in awe of the buildings, lights, people and the energy. For some of the girls it was their first time on ice skates and for others, it was their very first time in the city.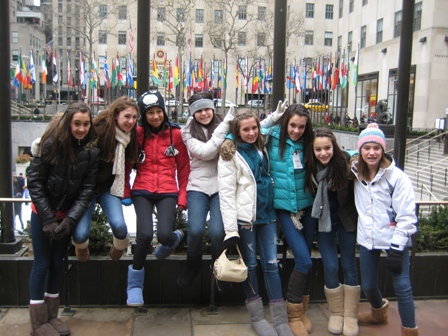 Yes, sporting those adorable UGG boots and skinny jeans, this is the kind of birthday that my niece will remember for years to come and it's a wonderful memory she made with some close friends that will last a lifetime.
And really, it just doesn't get better than that.
Wishing you and yours a wonderful Valentine's Day! So this year ditch the chocolates and the flowers. Instead, make a memory – share an experience with someone you love and I bet you'll remember it long after those roses start to wilt.