The Campus Quilt Company is owned and lead by Leigh Lowe which began in 2000 based on a thesis project for her MBA. She later turned that project into a thriving company dedicated to turning "old" clothes into lasting memories. Many of us have a pile of t-shirts, jeans or baby clothes that we just can't seem to throw away which is why Leigh decided to develop a concept that would help others turn those clothes into treasured memories.
There is a quilt that can be custom made to fit any personality; if you have a husband who is a sports fanatic, you can easily create a customized quilt based on his favorite team. If you have a child who plays a sport, all of his/her t-shirts and sports memories can be turned into a quilt and if your daughter is a dancer, what better way to preserve some of her precious dance costumes? The possibilities are endless…
Although t-shirts are typically sewn onto the fabric to make these beautiful T-Shirt quilts, the company didn't hesitate when I shared my "out of the box" idea. I wanted to preserve some of my daughter's "first" things as a baby so I opted to create a customized Wee Quilt. I wanted to use items for this quilt that aren't traditionally used or sewn but the company worked with me and said, "If we can get a needle through it, we can quilt it."
Here is a photo of my gorgeous Wee Quilt: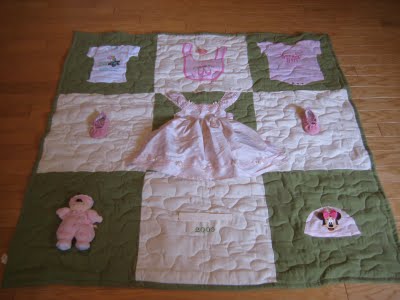 There are so many different ways you can personalize these quilts and there are so many options available; you have choices in fabric, colors, sashing, size of each square, etc. The customer service department did a fantastic job customizing this quilt to fit my needs. If you have an idea, Campus Quilt Company will ensure that your vision is turned into a reality. They offer T-Shirt Pillows and they even create photo quilts, based on your own digital photos. How awesome is that? You can find a bunch of ideas from this page here.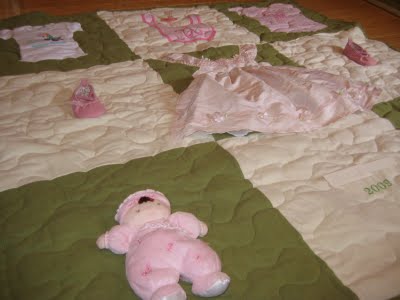 From every seam down to each square, this is truly a beautifully made product of high durability and quality, something that will remain in my family for years to come.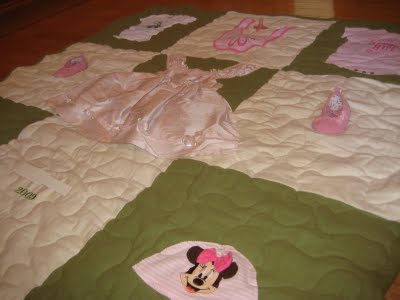 The Campus Quilt Company has been featured on the Today Show and Rachel Ray and it's no surprise since these quilts are of very high quality and workmanship, making it the perfect gift for someone special. The site includes many options as you are customizing your quilt from sashing to embroidery and even custom backing. Be sure to visit the FAQ page as the full design process is outlined clearly. To stay updated on the latest designs and information be sure to "like" The Campus Quilt Company on Facebook.
Theta Mom® abides by word of mouth marketing standards and believes in honesty of relationship, opinion and identity. Campus Quilt Company is a proud sponsor of Theta Mom and I was compensated for this post. In addition, having worked with Campus Quilts, photos from my sponsored quilt were added to this editorial review. However, all opinions expressed are purely my own and the content of this post was not influenced in any way.