Bellflower Books  is a company that was started by two best friends, Heather Smith and Kerry Wellstein. The idea to start this business actually derived from the difficulty they both found when trying to come up with meaningful, personal gifts for some big events that were happening in their lives – such as Kerry's Father's Retirement and Heather's Mother's 50th Birthday. After some brainstorming and soul searching, these ladies recognized that the gifts we give, receive and treasure the most are the ones that come from the heart; the kind of gifts shared with those we love. Heather and Kerry knew that combining the ability to get in touch with family and friends to share photos and ideas seamlessly would be the answer to creating a personal, affordable and meaningful gift that would last a lifetime. Hence, Bellflower Books was born.
I have to tell you that the major difference that clearly separates Bellflower Books from your typical Kodak or Snapfish platform can be found in the software that Heather and Kerry developed. The online tools at Bellflower Books give you the opportunity to make family and friends an integral part of your project with just a click and the addition of some email address. They also have tons of professional, hard covered designs available that really can't be matched by their competitors.
Here is a photo of the Bellflower Book I received to give you a better idea: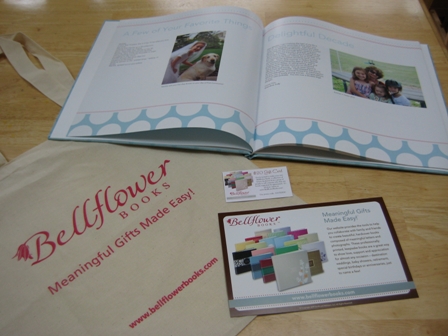 You can also check out a sample completed you book with the ability to turn the pages online and they even offer you an Idea Center to get inspired! Bellflower Books make the perfect gift for any occasion, such as baby and bridal showers, retirements, birthdays, anniversaries – and the list goes on! The possibilities of the kind of book to make are endless…
For example, I am a blogger who takes photos when I attend a blog conference and I always find myself searching through Facebook pages and Flickr accounts to gather some great photos of my bloggy friends. Bellflower Books would have saved me so much time since the tools are available on the website (and by simply adding the email addresses other bloggers, this would give them to opportunity to upload their OWN photos and share their own text to the SAME conference that we all attended). Wouldn't that be a fabulous way to remember an incredible event – and sharing this process with those that matter most? If you attended a blog conference recently or plan on attending some this spring/summer, Bellflower Books is a great way to preserve those fabulous memories in ONE beautiful book!
How It Works:
You begin by creating a free account, only using your name and email address (and choosing a password). Easy peasy! Then, you choose your favorite book style (so many fabulous colors/designs to choose from with some examples are here) and collect the email addresses of those who you would like some photos and/or text from to complete your book. The Bellflower Books web tools take care of the rest! When you are ready, you have the ability to preview the book online and make any necessary edits before you place your order!
But wait, there's more. You know that I only feature women-owned businesses in The Marketplace that I trust and that make sense to this website as well as my readership. Bellflower Books certainly fills that criteria; I love the way that they are a real organic company, two best friends that had an incredible idea who designed an authentic product that touches the lives of others. I was not only inspired by their start-up story, but by their company's mission and goals. They are truly two women I am so proud to partner with.
Therefore, you will find me tweeting for Bellflower Books, generating some great buzz as well as developing a fabulous community for the brand. I've come on board to help them kick-start a social media presence so I hope you join me in welcoming Bellflower Books to the social media space; they are certainly a brand you should get to know as well as one to watch!
Theta Mom® abides by word of mouth marketing standards and believes in honesty of relationship, opinion and identity. Bellflower Books is a proud sponsor of Theta Mom and I was compensated for this post and provided sample materials. However, all opinions expressed are purely my own and the content of this post was not influenced in any way.