Cookies for Kids' Cancer is a non-profit organization that was founded by two NYC parents, Gretchen and Larry Witt whose son Liam passed away at the age of 6 after a very brave battle with stage 4 cancer. One of my dear bloggy friends, Jessica Shyba teamed up with Tracey Stewart of Moomah Café along with Melissa Chapman and Karen Connell in an effort to fight pediatric cancer.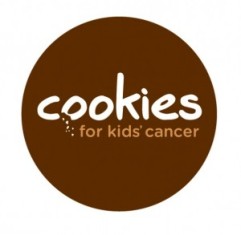 The main goal of this benefit is to raise money for pediatric cancer research and spread the word about this amazing organization. Attendees also have the chance to enter and win prizes from some wonderful sponsors from the likes of Rosie Pope, Britax, Bellamy Blue Photography, Ritz-Carlton, iCandy, Gaggle of Chicks, Appaman, Schwinn, Maclaren and many, many more.
In addition, The Glad Products Company partnered with Cookies for Kids' Cancer to match all donations up to $225,000 for the month of May.  You can buy a cookie, enter a raffle and help us beat childhood cancer! All proceeds and donations go directly to Cookies for Kids' Cancer.
The Benefit will be held on Monday, May 23rd from 2-4 pm at Moomah Café in New York City. For further information about this event, be sure to visit the official invite here and to stay updated on the latest information, follow Cookies for Kids' Cancer on Twitter and Facebook.
"Cookies for Kids' Cancer is committed to raising funds to support research for new and improved therapies for pediatric cancer, the leading cause of death by disease for children under the age of 18. Through the concept of local bake sales, Cookies for Kids' Cancer provides the inspiration and support for individuals, communities, and businesses to help fight pediatric cancer."
Thank you Jessica, Melissa, Karen and Tracy for hosting a benefit that supports such an amazing cause. In these instances, where our efforts can and DO make a difference, I am so proud to call myself a blogger.