PigTail Pals was created by stay-at-home mom, Melissa Wardy. Very early on Melissa knew she wanted more clothing options for her little girl beyond the "girly" attire that seemed to be everywhere. She wanted her daughter to know that she had the power to be whoever she wanted to be and Melissa felt the need to not to confine her to one specific "girly" look. Melissa wanted to send an important message in early childhood that females are smart, daring, and adventurous. Hence, her business was born. "A PigTail Pal doesn't wish upon a star and wait for her prince to show up. A Pigtail Pal gets into her rocket ship and finds that star all on her own!"
This company offers a full line of distinctive designs on stylish, premium tees that demonstrate girls can be bold and heroic. This is essentially the mission behind developing this business and women and mothers are embracing the way Melissa is redefining girly. However, Melissa is not anti-pink or anti-princess. I mean, who doesn't love an adorable diva dress? But what she is saying is that she's anti-limitation, giving our daughters more choices in terms of what to wear. The art and message on every PigTail Pal product show girls that they can dream in any color. It tells girls that being smart, daring and adventurous is being girly!
Here are some examples of some popular PigTail Pals designs which are available in 12 different colors such as one of my favorites, The Director: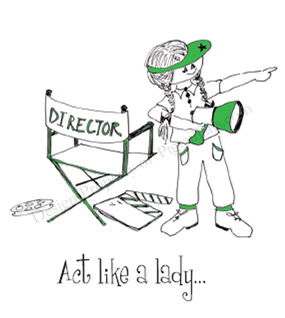 However, Melissa didn't stop at designing tees alone. She has a full line of matching accessories which are just as cute as the tees! You'll find everything from hats, to school supply kits, back packs and even writer's kits all in PigTail Pal style!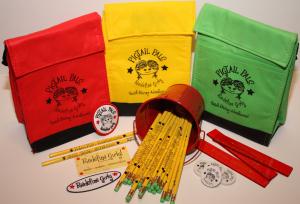 Be sure to check out all that PigTail Pals has to offer your little girl and stay updated on Twitter and Facebook.
Theta Mom® abides by word of mouth marketing standards and believes in honesty of relationship, opinion and identity. PigTail Pals is a proud sponsor of Theta Mom and I was compensated for this post. However, all opinions expressed are purely my own and the content of this post was not influenced in any way.