Trading Cradles is a free marketplace for parents to buy and sell gently used items as their little ones grows. This company is run and owned by a team of six, many of them mothers themselves. The executive team at Trading Cradles, like many other parents, recognized how much money is spent on baby and toddler items and how quickly these items are no longer needed. Therefore, they decided to design a site and create a space that would offer other parents an opportunity to buy and sell their items in a local area, giving parents a safe "place" to properly buy and sell.

The team developed this concept based on three ideas: Make it Easy (No registration is necessary to place an easy 250 character limit ad) Make it Free (There is no charge to list an ad or purchase a product from an existing ad) Keep it Safe (The parental team approves every ad before it is listed). These three pillars are what make this site so successful.
Initially, I knew the premise of the site sounded very similar to that of a Craig's List and other similar sites but after checking out all that Trading Cradles has to offer, what sets them apart from other sites is that the team MUST approve each ad before it is listed, so any kind of spam or "fake" ad doesn't get through. This enables the site to become a safe place to buy and sell, especially since you can target your local market, searching in a city nearest to you. What I also love is that Trading Cradles is dedicated to buying and selling ONLY children's items, so it's a specific market that fills a very specific need. You won't have to browse through coffee makers and couch pillows to find what you are looking for – baby and children items!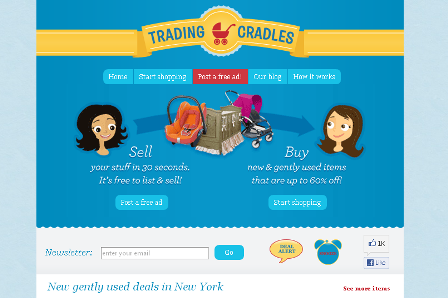 Buying and selling baby and children's items has never been so easy! Once you click on the city nearest to you, you can begin shopping immediately!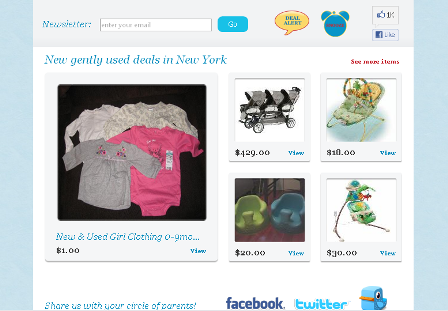 There are tons of items to choose from at affordable prices to meet your needs. It's a total win/win for both the buyer and seller and Trading Cradles is the place that brings the two together! For more information and a full FAQ sheet that may answer any question you may have about the process, be sure to visit the FAQ page. You can also watch a short video that clearly explains how this site works on the How It Works page.
To stay updated on the latest deals and information, be sure to also follow Trading Cradles on Twitter, Facebook and the Blog.
Theta Mom® abides by word of mouth marketing standards and believes in honesty of relationship, opinion and identity. Trading Cradles is a proud sponsor of Theta Mom and I was compensated for this post. However, all opinions expressed are purely my own and the content of this post was not influenced in any way.