Since publishing my very first post here at Theta Mom, this blogging journey has really been one amazing experience for me. Never did I ever think that my passion for writing and desire to connect with other mothers would have lead me to this point so quickly – smack in the center of an industry that doesn't seem to be slowing down any time soon.
I recently wrote a post about the amount of time and hard work that goes into establishing and maintaining a successful blog. I reiterated the fact that there are no free handouts out in the blogosphere, that any fabulous opportunity which comes along to another blogger is certainly something that has to be earned.
And I am living proof of that.
Especially today.
You see, for almost a year, in addition to running this blog and managing the Community and The Marketplace, I have also added social media consultant to my resume. I have been working "behind the scenes" helping clients and their own brands reach their full potential through the social media space. So with the tremendous growth of my own brand and working with more and more clients, I knew it was time to chase another dream and start my very own company.
So along with the brilliant mind of my designer Lauren from Restored 316 who always knows how to take my vision and turn it into reality, I finally have the proper space to call my business home – a business that I've been actively working at for quite some time now.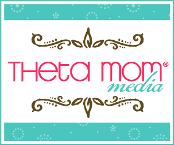 Introducing my company, Theta Mom Media, a business I am so committed to and proud of, one that would not have been possible if I never published my first post right here at Theta Mom.
So, perhaps my time has come.
Yet, it's only just begun.