Tiny Devotions is owned and founded by Diana Charabia, an adventurer, world traveler and creative soul that is dedicated to making the most beautiful Mala beads in the world. Diana was in Bali, Indonesia when she began creating these designer Mala necklaces. The Balinese are known to leave acts of devotion (such as flowers or food on the streets) as offerings to their Gods. These "tiny devotions" are truly what inspired the name of this woman-owned brand, specializing in developing designer Mala beads which are known to bring good luck, good energy, healing, and health to its wearers.
Mediation, chanting, and tons of hot yoga have been noted as the inspiration behind the creation of every Mala bead. Each Mala is made with love in Canada with sacred Rudracksha seeds (as worn for thousands of years in traditional yoga, Buddhism, and Hinduism and is said to have a lot of positive healing qualities) as well as semi-precious gemstones, depending on the different energy quality that the Mala represents. Typically, you should choose a stone that inspires you on your journey which is exactly what I did. Regardless of your specific mantra or passion, there is a Mala that will fit your dreams, lifestyle and you'll look fabulous in the process. Mala beads can be found in some form in nearly every tradition around the world. Now, THAT is powerful!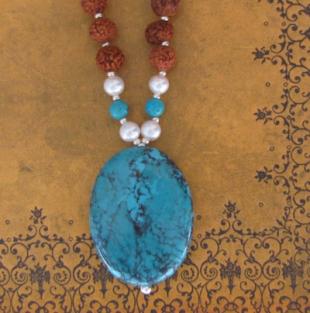 I am wearing the Turquoise Ocean Mala which represents communication, healing and balance. Initially, I chose this Mala bead because I simply loved the color of the stone and the fact that it appeared to have an "ocean" quality to it. Growing up at the beach, I've always had a strong love for the ocean so I immediately connected to this piece. When I found out that this Mala represented communication, healing and balance, I knew it was the perfect bead for me. As a busy work-at-home mom, I am always seeking healing and balance – and the fact that part of what I do for a living (communication), there couldn't be a better Mala fit for me. When I further read, "Whether your goal is to become a rock star public speaker or PR vixen, turquoise is the stone for you," I knew I had to have this Mala! This piece retails at $108.
If you are looking for strength and good luck, known to protect its wearer from harm then check out the African Jade Mala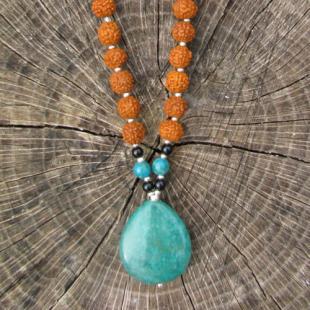 I also adore The Creative Catalyst which is perfectly designed for those born to create, specifically made for writers, designers and others wishing to fuel their creativity.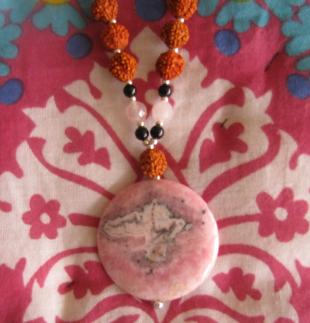 Remember that each Tiny Devotions Mala is made with a different intention, so have fun shopping for the stone that is right for you or someone you love! Whether it's strength, love or healing, there is a Mala out there for every soul. Shop the full line of Mala beads and stay up to date with Tiny Devotions on Twitter and Facebook.
Theta Mom® abides by word of mouth marketing standards and believes in honesty of relationship, opinion and identity. Tiny Devotions is a proud sponsor of Theta Mom and I was compensated for this post. In addition, I was provided a Turquoise Ocean Mala to facilitate this review. However, all opinions expressed are purely my own and the content of this post was not influenced in any way.