There's been so much talk recently that this generation of high school and college graduates are at risk of the digital divide…and apparently, it continues to widen.
It's been documented in comparative education and there are a host of several issues on the table, but the one that stands out in my mind is how many of these young adults actually need to "re-learn" the art of some basic interpersonal  communication skills because for most of them, this was not a necessity. They simply relied on texting, tweeting and "Facebooking" as their main way of communicating; the face-to-face dynamic of communication (such as successfully conducting themselves in an interview) is somewhat foreign to them – a paradigm that certainly needs to shift.
For me, this begs to ask the question, if there is an issue now for college graduates (who were at the cusp of this digital generation), what the hell does this mean for my kids?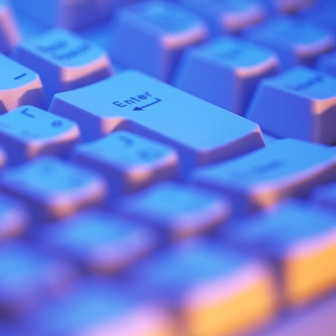 My son will be six and he already knows that mommy has her own website. He understands the concept of blogging and vlogging and he actually understands the idea of Twitter and Facebook as a means of communicating. He knows that my iphone is "connected online" virtually anywhere and the word app has no relation to food. He'll ask me to text or email his friends' moms to get in touch with them for a play date and he rarely sees me "talk" on the telephone. Moreover, he knows that mommy makes a living working on the computer.
His little world is filled with "play" smart phones, DS cartridges and a million choices of shows to watch ON DEMAND.
Doesn't this speak volumes?
I want what we all want for our kids – to give them the best possible everything in a world that is changing as we speak. However, living in the digital age certainly creates more challenges of parenting this generation and I'm sure there will be tons of new repercussions as we move through this process. Online bullying, for example, was near non-existent ten years ago and today? It's happening every minute.
Quite frankly, it horrifies me to think that some of today's college graduates actually have to "learn" the kind of communication that we practically experienced naturally. In essence, an iPhone may help to connect you to the right people but it certainly won't guarantee you the job. For me, it's the real, face-to-face relationships that are more important now than they ever were – and I will be sure that although my kids may grow up with more gadgets and platforms than I could ever dream of, they will have plenty of other interpersonal experiences and be cognizant of this, too.
I'll make sure of it.
Maybe this means that mommy puts down the iPhone and has some real conversations on the telephone. Maybe it means playing more board games than hopping on the Wii.
Maybe it means to just be without so much technology all of the time.
Maybe.
Maybe we can actually have the best of both worlds, I mean hey – my kid may be blogging about me one day on his own domain. I can only hope that he'll say that I parented with love and conviction – and did the best job that I could raising children in the digital age.
A damn good job.