The key went into the ignition and the top came down from the Jeep, a summer night was upon us – an evening that did not involve sippy cups, diapers or breaking up sibling rivalry.
This night was about us.
Only us.
Tooling around in the Jeep, the ipod beamed with old school tracks, namely Pearl Jam and we BLASTED it, singing at the top of our lungs all along the highway.
We didn't have a care in the world.
I was 17 again.
Later, we sat outside with a bottle of wine at a favorite restaurant. We drank and laughed and smiled and talked – I mean REALLY talked. It was like old times and we didn't have a single worry in the world.
I was 17 again.
We walked hand in hand along the boardwalk.
We smelled the ocean air and window shopped at the boutique stores.
We ate ice cream with our toes in the sand.
We gazed at the stars in the midnight sky and listed to the waves crash onto shore.
We shared new hopes and dreams, together.
And I was totally crushing on my husband.
It was an ideal night, fit for two – a married couple who has had their fair share of major ups and downs.
But that night, was, well – just perfection.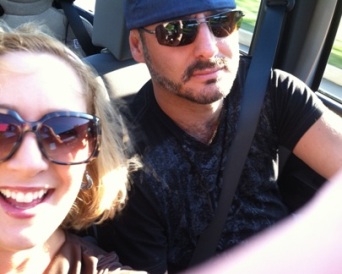 We were 17 again.