Emily Press Labels is owned and lead by Maureen, a woman who set out to find durable and stylish labels for many of her nieces and nephews. She always heard complaints from other moms about losing or misplacing various items (since they were not labeled), so she knew there had to be a better solution. She jumped at the opportunity to start her own business with children, as well as adults, in mind. She researched and tested tons of different labels through numerous dishwater and laundry cycles. She also continued to design various label collections through this process – everything from sippy cups to office supplies. Maureen wanted to create a company that could be loved by every member of the family. Thus, Emily Press was born.
The first set of labels that caught my eye was the Allergy and Medical labels. Many of you know my son has a severe nut allergy, so you can understand why I personally think these labels are so important for parents of children that have allergies – any kind of known allergy. You have three lines of text so you can fill this info in however you see appropriate. It can give parents a little extra peace of mind knowing that others will be immediately aware of your child's allergy.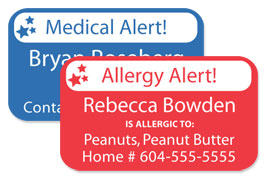 Other great labels found online are from the many designs created within the Hip and Whimsy and Emily Press Chic Collection which are both functional and fun! You could make specific design selections within multiple packs.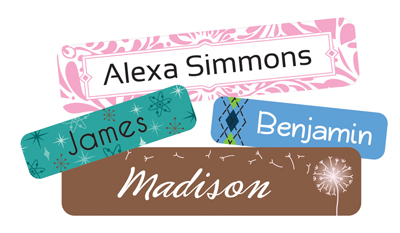 Tag-a-tag labels are also an Emily Press favorite because they peel and stick so there is no ironing involved!
But if you are looking for more than clothing labels, be sure to check out labels for products kept around the house to stay organized, such as Spice labels, Tool labels and even Book labels!

Lastly, back to school means fundraising isn't too far behind! Emily Press Labels happen to make great fundraisers which not only help to raise money for your child's school, but they also help reduce the lost and found pile! An Emily Press fundraiser is easy to run and can be set up in a day or two. You can track your commissions online in real time so for more information, be sure to check out the fundraiser information.
Emily Press knows that the kids are back at school and you still may be in need of these important labels! This company is currently offering Theta Mom readers 7% off every order by entering the code THETAMOM7 at checkout. This offer is valid through 9/18/11. In addition, Emily Press offers free standard shipping for any order over $39 (before shipping, taxes and after any promotions is applied). For the latest information and deals from Emily Press, be sure to connect with this company on Twitter and Facebook.
Theta Mom® abides by word of mouth marketing standards and believes in honesty of relationship, opinion and identity. Emily Press is a proud sponsor of Theta Mom and I was compensated for this post. However, all opinions expressed are purely my own and the content of this post was not influenced in any way.