Early in my marriage (one random day in January) I decided to take a day off from work because I had a nasty head cold and I just wasn't feeling quite like myself, something was certainly off. It was either me being totally hormonal or it could have been the fact that my husband and I were also entertaining some house guests at the time and I was beginning to get irritable.
We had some of his family members visiting from Europe and you know how much work it is to have out of town guests (not only were they out of town, it was their very first trip to America. Yeah, THOSE kind of non-stop house guests).
Anyway, my husband wanted to take our "out-of-town-here-for-the-first-time-in-america-oh-my-god-i-want-to-see-everything-guests" to see the Statue of Liberty. But let's not forget to note that it was a whopping 5 degrees outside that day with large amounts of snow on the ground and I sure as hell didn't feel like riding the ferry and staring at Lady Liberty in that crazy cold weather.
If I was going to take a day off from work, it certainly was NOT going to be spent in frigid NYC weather with my husband's family. No, my day off was going to be filled with lots of warm cups of coffee, comfy slippers and tons of senseless television – in an empty house.
So I bid my husband and his family farewell at the door and I told him I would call him later. You know, because I was feeling a bit under the weather myself –  so much so, I even took a pregnancy test.
Ahem.
Excited to have the whole day ahead of me all to myself, I was SO thrilled to begin planning the epic news of how I was going to tell my my husband that he was going to be a father. Before I could even begin planning how I was going to do it, I threw in a load of laundry and made myself a cup of tea. This sure was going to be a perfect day off. That was until the moment I saw water seeping out from under my laundry room door…
I ran over and opened the door to find out what seemed to be 8 million gallons of water ejecting from the washing machine directly onto my hardwood floors. The water was shooting out erratically from a pipe behind the machine and I just couldn't make it stop.
I was a fairly new bride, maybe not one of the most domestic chicks you'll ever meet – but I was always pretty confident when it came down to doing the wash. But, I had *no idea* why water was gorging from the water line – all I knew was that I had to make it stop but every second that passed, gallons and gallons of water continued to gush onto the floor.
Sloshing my way toward the basement door, I ran downstairs to grab a bucket of some sort – I thought perhaps I could contain some of the water in the bucket and then proceed to dump it out onto the snow covered ground. I know, not the most brilliant idea – but at the time (in the total of the two minutes I had when this whole thing went down), that's all I could come up with. But as I was down in the basement for about two seconds, I knew I had even bigger problems.
The water spewing from my machine upstairs was now seeping through the hardwood floors and the water was falling through to the ceiling below directly into my basement. And it was falling onto all of the electrical cords down there – and that's when I went into sheer panic mode. Not only did I probably completely ruin my floors, I now had this water issue oozing its way into my basement – and it was a clear fire hazard.
I couldn't call my husband because he was busy showing his family around NYC so I had no choice but to call the police. By this time, the water was done spewing because the spin cycle had been complete, but the damage was already done.
The police finally came, saw the damage and walked over to my washing machine. After a quick investigation of the situation, it was made known that one of the pipes was frozen which caused the water to spew out – but the cop did point out one priceless little detail to me that day.
"You see this button on the machine?" the cop asked.
I leaned over to take a look.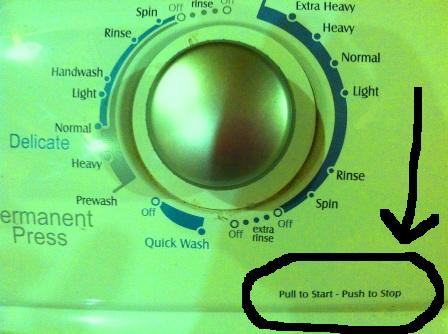 And there were the words, clear as day.
 "Pull to Start – Push to Stop."
With one finger, the cop pushed the button in, turning the machine off in just one click. After some silence, I stood there in my sopping wet slippers  and "Oh," was pretty much all I managed to speak. I never felt so stupid in my life, I should have just blamed it on pregnancy brain.
And the cop's parting words? "Well, at least you'll know for the next time, right? Best of luck when your husband comes home."
Ugh, the mere thought of telling my husband was beyond dreadful. There I was, surrounded by gallons of stagnant water, warped hardwood floors and a whole hell of a lot of explaining to do when the hubs got home.
Thank GOD I had the news that he was going to be a Daddy to share first. Otherwise, I'm not quite sure how that night would have all played out. Regardless, let me save you hours and hours of agony ladies – just know when to pull and push.
The end.