Pool parties should be nothing but a place where you can float on a raft with a large cocktail in your hand, a place where there is no splashing nearby and no kids screaming. The perfect pool parties were meant for you to float alone during this sunbathing and drink-fest crusade – drifting along in your own little universe. Pool party invites that include my two kids should be illegal because there is absolutely nothing F-U-N about it. If you are a Theta Mom® to-be or a mama of a newborn, you probably haven't experienced the pool-party-from-hell-with-your-toddlers just yet.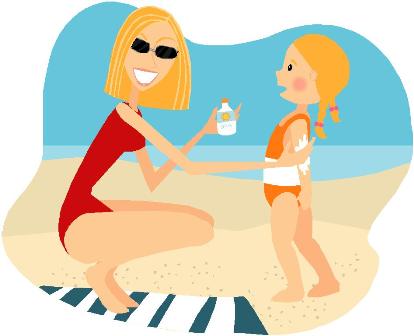 But fear not, I'm sure you will – and you'll remember this post.
I'm attempting to shield you from some of the pool party agony, so here are some tips for surviving that dreadful day.
Wear a comfortable bathing suit and get ready to flash the guests. Why? Because your boobs will be hanging out all over the place as you bend down 1,000,000 times to pick up the crap that you'll need for your kids from your overloaded-full-of-so-much-crap-you-can't-find-a-goddamn-thing pool bag. Your butt will be in everyone's face as you bend down to attend to your annoying, screaming toddler who either just got splashed or isn't sure if she's ready to go into the pool.
Bring earplugs. No, this isn't for you as you swim or go underwater, they are actually for your own sanity. You will hear the harsh screams from not only your annoying child but from those around you. They will be everywhere. There will be so much noise you will want to drown out, so be sure to put the earplugs in securely and leave them in for the duration of the party.
Forget the flip-flops, lace up your running shoes. You will be in and out of the pool 1,000 times and in and out of the house to use the bathroom 1,000 times. No matter how much you try to avoid the drama or how prepared you think you are, it will happen. And just when you lotion them all up and finally think you'll have a few moments to sit and relax, your kid will be in the pool no less than five minutes before you hear the words, "I have to pee."
Be ready to perspire. A lot. I've never attended a pool party when it wasn't blazing hot outside.  I'm talking about the kind of summer weather that makes you sweat just standing there. Well, the beads of sweat will drip down your face and along your back and there isn't a damn thing you can do about it so don't even think about sporting your expensive makeup. There will be times you'll actually want to drown yourself in that pool to cool off, but your indecisive child will make you hold her hand for the entire time as you just dip your toe in.
Prepare for your Oscar winning role. Yes, you'll be putting on a happy face throughout the duration of this party. You will have to fake a smile to everyone you meet, letting them think you're having a wonderful time. Meanwhile, you want to choke your kids and just b-line it straight for the bar. You will be so envious of the women who are childless at the party who continue to sip their cocktails at leisure who are enjoying some quality adult conversation. At that very moment, you will actually question why the hell you said yes to attend this pool party.
That's right – YOU are the Theta Mom® chasing your three year-old around the entire length of the pool, trying to keep your cool as you fake a smile and call her name, hoping she doesn't fall in and drown as your boobs are flying out of your bathing suit and sweat is dripping down your face…and all you really want is five measly minutes alone, at the bar with a beer.
But that won't ever happen.
Take it from me – say NO to that pool party and instead, turn on the sprinkler in your backyard for the kids, pull up a lawn chair and pour yourself an extra large cocktail as you soak up some sun.
You'll have a much better time, I guarantee it.
You're welcome.