Tiny Prints is a company that has grown from a small, self-funded start-up to one of the biggest online retailers of savvy and stylish prints anywhere. Tiny Prints is probably best known for their gorgeous line of birth announcements and baby shower invitations. However, this company quickly branded itself to offer full card collections that meet the needs of every special occasion, so now you can send a Tiny Print for just about anything! And year after year, more and more people count on Tiny Prints as their go-to place for the infamous holiday card, myself included.

That's right Theta Moms® it's that time of year already when we need to begin thinking about ordering holiday cards! I always say the hardest part is selecting just one favorite design from Tiny Prints because there are so many beautiful cards to choose from. For this sponsored post, I reviewed cards from their Christmas Photo Cards.
I love this Christmas card with so many pops of color. If you are looking for a card that allows you to add more than two photos, check out so this "pop of color" card which provides five full spaces to upload some awesome photos.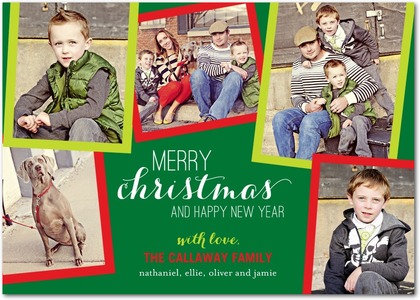 Many cards have different color options and formats available which truly creates a total customized experience to fit your needs. For example, if you adore the layout of a specific card but want to change some of the text, you have the capability to do that. In addition, the ordering process is an absolute snap so changing the text and uploading a photo is completely effortless and seamless.  The photo always turns out clear and the card itself is made with heavyweight cardstock, so those elements together demonstrate the overall outstanding quality of this card.
If you're looking for a card with a gorgeous design and one photo option, check out this card which provides plenty of room above the text to add in one killer photo: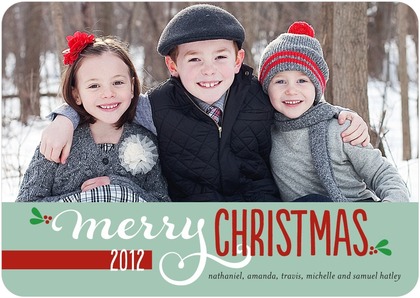 For me, the best part about Tiny Prints (aside from their excellent customer service) is the unbeatable quality of the cards. It truly is one of the most professional and "classy" kind of card to send and I can't wait to mail them out to my family and friends this holiday. It's by far a pleasure to shop this online site!
So have fun shopping this holiday season at Tiny Prints and be sure check out their Special Offerspage for exclusive savings and related discounts! You can also stay up to date with the latest product information by following Tiny Prints on Twitter and Facebook.
Theta Mom® abides by word of mouth marketing standards and believes in honesty of relationship, opinion and identity. Tiny Prints is a proud sponsor of Theta Mom and I was compensated to create custom made cards in order to facilitate this review. However, all opinions expressed are purely my own and the content of this post was not influenced in any way.