"The Jersey Shore that I know and love is gone." – Jon Bon Jovi, on the Today Show.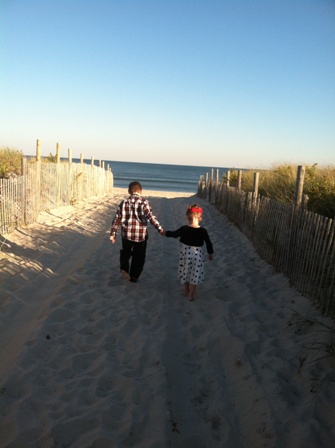 As a native Jersey girl, I grew up at the Jersey Shore.
I grew up in a house that was on the mainland, but I was one of the lucky ones whose parents also owned a home right at the beach. So of course, I spent every single summer at my parent's beach house. I have a million memories from the shore as a child and as I got older, I even worked every summer through high school and college at local retail stores and restaurants right near the beach.
 It was a way of life.
It's all I've ever known and once I started having children, those memories I made would be passed down to them and they would experience the Jersey Shore for themselves.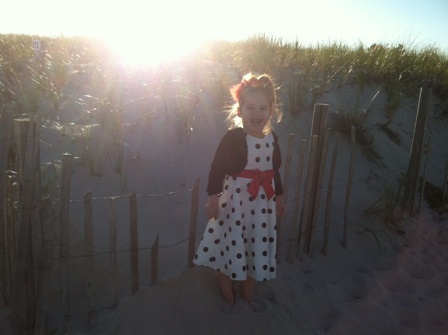 Our summer home has been in my family's name since the 1940's and it's been passed on from generation to generation. Even my parents have memories as children there, as do I and most recently, my own children have started to make tons of memories there.
The thing is, with the popularity of the MTV show, I always felt the need to defend the Jersey Shore – My Jersey Shore, the REAL Jersey Shore. Over the years, in the midst of defending the shore and claiming our stake as it being a great place to raise kids, our bungalow has fared its way though several storms, some of them considerable that required repairs. Last year, Hurricane Irene swept in forcing my parents to actually rebuild. And without hesitation, they did – never thinking that less than a year later it would happen all over again, but this time, even far worse.
In late August, my husband and I moved to the Jersey Shore seeking a better life for our kids. More importantly, we wanted better schools – and we most certainly wanted to be closer to family. And the beach practically in our backyard? It was a total added bonus for us.
Here I am on the beach with my kids on October 22, 2012 – marveling at the fact that the beach is practically in our backyard and grateful as we begin to settle in to our new roots at the Jersey Shore – never in my wildest dreams could I ever imagine that exactly SEVEN DAYS LATER, the Jersey Shore as we know it would be changed forever…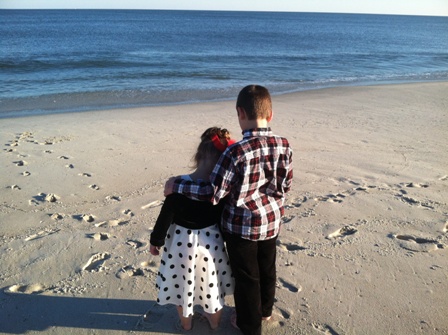 After some careful consideration and listening to numerous reports that the shore was going to be directly affected by the wrath of Hurricane Sandy on October 29th, we knew that staying in our home wouldn't be the safest place for us and our children. Although we live inland and flooding wasn't a concern, the amount of trees surrounding our property certainly was.
Every bedroom was a potential problem and looking at the force of those wind projections, we knew it was inevitable we had to go. So I grabbed a photo of my kids, my wedding album and a bottle of wine before heading out the door to my parent's house. Leaving our home, I was frightened with the possibility of what Sandy could do. And thinking about the rest of my family who resides at the shore, it was an absolute nightmare. Even though the officials and forecasters were predicting the worst, at the eleventh hour, I was *still* holding onto some sort of glimmer of hope that Sandy would take another track and spare us from any devastation.
But, as you all know, she took the track that was most predicted and ultimately made landfall along the Jersey Shore, carrying the strongest storm surge ever recorded and wind gusts and rainfall that were unimaginable.
Once Sandy made impact, my family and I huddled together in darkness, listening to the wind gusts and the falling rain, fearing what we would find when it was all over.
Once the storm passed, all I could do was listen to my mom's transistor radio.
I hung on every word as I heard the reports that were coming in from local and state officials and each report seemed to be worse than the one preceding.
We were beginning to fear the worst.
The reality was, when Sandy finally moved on, the destruction and devastation she left us with was simply unthinkable.
"The Jersey Shore that I know and love is gone."
I can't even begin to put into words how I feel.
I can't even begin to describe the impact this will have on my parent's lives, my own life and my children's lives. And that just scratches the surface…
There are thousands of people who are now homeless.
There are many people who are unemployed because their places of employment are destroyed.
There are so many children who need to attend new schools, in addition to enduring the pain and burden of losing their own homes.
There are thousands of people, who as I write this, are still without power.
There are thousands and thousands of people, including some of our family and friends who have been directly impacted by this storm.
In addition to the Jersey Shore, places such as Staten Island, NYC and Long Island were also badly hit and it's devastating.
My heart breaks for those who are in pain and those who are suffering from loss during this storm.
And my heart aches with the realization that our coastline has been changed forever – but I am hopeful that one fine day, we will restore our beloved Jersey Shore.
One fine day indeed.
This post doesn't even begin to describe what I feel in my heart. I have so much I want to say but I am still searching for the right words. The Jersey Shore is at the inner core of who I am as a person, it is my hometown, my place of refuge – and it's where I live today. It's also the place where I made every single childhood memory. I hope that in the coming days, weeks, and months, I will be able to tell you my story and hope in due time, my writing will begin to help me heal.
I hope wherever you are that you are safe and seeking your own inner peace from the wrath of Sandy. If possible, please make a donation to local communities here in NJ. These places and people are suffering and need your assistance. You can make a donation to the Red Cross by donating online or via the phone by calling 1-800-HELP-NOW.You can follow various hashtags on Twitter such as #Sandy #SandyHelp #SandyRelief #SandyAid to get the latest information and how you can help.
Finally, thank you so much for your texts, tweets, comments, emails and concerns – it has once again helped me get through a very trying time.
xoxoxoxo