My daughter is four and I'm already dreading the tween years. I can't even imagine what the r-e-a-l teenage years will bring. Wait, I said she was four so why am I already saying this?
Well, my adorable toddler-turned-little-girl-virtually-overnight loves to dress up. She likes clothing, accessories and all things nice…just like her mama.
Ahem.
She's at that age where she loves to wear headbands, cute boots and she loves to pick out her own outfits in the morning, with a little help from her mama of course.
She's at that adorable age where princesses are still her heroes and chasing butterflies are worth catching. And that Daddy is and always will be the only man in her life.
She's at that age that we are still total BFF's.
I'll take it while the getting is still good because the other day I had a vision of what life will be like in about seven years, maybe even six.
You see, one of our friends gave her an adorable gift set for Christmas – it was a cute container with some fun nail polish colors, lip gloss and even some body lotion – the perfect little pint sizes for my little girl. Of course she went nuts over it.
She loves getting her nails painted and tries to act like she's 15 wearing a little lip gloss around the house. But I'm not ready for her to start sporting that stuff in public just yet. I don't need her looking like Toddlers and Tiaras anytime soon. She's four and I like to keep her that way as long as humanly possible. So lip gloss in the house is where it stays.
Anyhoo, we were getting ready for preschool the other morning when I had my holy-cow-what-the-hell-am-I-going-to-do-when-this-kid-actually-becomes-a-teenager-if-this-is-what-I-already-see-right-now moment. She finished putting on her coat and boots when I grabbed her backpack and heard jingling coming from inside. The backpack also felt much heavier than normal.
She stood there with a mischievous smirk on her face as I opened her backpack.
And inside, what did I find?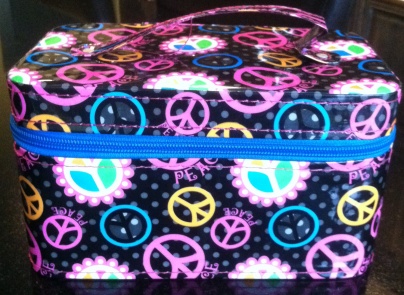 The gift set from our friends. Yeah, apparently my daughter had plans to take it to school because she and her little four year-old friends were all going to play beauty parlor.
And her last words before I took the set from out of the bag?
"For real mommy."
My final thoughts on this little incident?
Well, it's kind of hard to say since all I could think about is the vision of her leaving the house in one outfit and sneaking another in her backpack. The outfit she would change into which includes that little black mini skirt, you know, the one that I would detest and her father would want to burn – I have a feeling were in for quite a ride.
Four going on fourteen. Please send wine.