I haven't blogged in almost two weeks. I started drafting a post and then I deleted it. I started another draft and after several revisions, I deleted that one as well. I tried one more draft and after reading it through, I realized with so many changes I made throughout the piece, the story no longer resonated with me. I went a few days before writing again but it was obvious that I could not hit publish on that post either.
Quite frankly, this has been happening more and more lately.
When I started this blog, my little boy was three and I also had an infant girl on my hands. I had so much blog fodder daily I couldn't write fast enough to spill it all. I was virtually tied to the house with my two little ones – and blogging? Well, that was my sanity in those early years.
But now that my kids are nearly eight and five, blogging has changed for me in many ways. I've written about the evolution of blogging before, but this goes far beyond the "finding the blog time" issue – now, for me, it becomes a real privacy issue.
I'm not talking about the kind of privacy that includes sharing full names on the blog or tweeting a gazillion Instagram photos of my kids because that's not how I roll. A long time ago, I decided how and what I was going to share on this blog when it came to my kids but I never thought that one day, I would be face to face with the fact that the stories I share could have a direct impact on their lives – including my own.
Let me explain.
When my kids were really little, the blogging was all about me. This blog described MY experiences in motherhood, MY thoughts, MY feelings, MY reaction to many of the things that I was going through as a mom. I blogged about the crazy days of motherhood through infancy, the body changes, the emotions I experienced, and the ins and outs of motherhood. But now that my kids are older, the storytelling has become less about me and more about them.
And for me, that's a bit of an issue.
I'm not the first to write about this topic, nor will I be the last. I think this is just another part of the real learning curve on the big bloggy spectrum.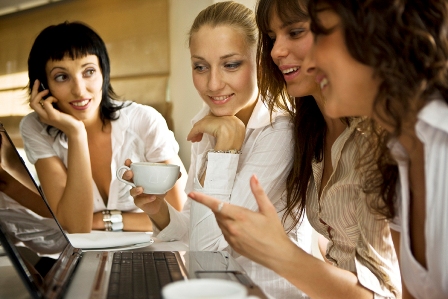 When we moved to a new town last year, I was meeting many new faces and of course I immediately got the question, "What do you do for a living?" Earlier in my blogging career I held onto talking about my former career as an educator and Adjunct Professor – but now that my business (my third baby) is already three years old, I proudly tell the world that I am a blogger – a professional blogger. Yes, this is what I do to put food on the table and I am really proud of what I've accomplished.
But, telling the world I have a blog DOES come with a price – the price of privacy.
If I share a story about my kids that may hurt their feelings (even if not today but potentially down the line), then I am putting them in a situation that I am not comfortable with because the storytelling should be more about ME, not them. Now that they are of school age, the tables have turned and blogging feels different. Much different.
Does this mean I am going to stop blogging? To leave the blogosphere? To run from the very thing I've poured my blood, sweat, and tears into everyday over the last four years?
Absolutely not.
Perhaps it's just a hurdle I need to work through along my own blog journey. I must find a balance that will ultimately work for me. Some bloggers share tons of family information, full names, a gazillion personal photos, etc. and that's great if it works for them – that certainly doesn't work for me. Neither does the kind of blogging that shares stories of my kids that one day, they may find upsetting.
The internet, as you know, is very real. And it's forever. I've been blogging for nearly four years so I chose to make this blog public. I totally get it. But, once something is out there it's very hard to take it back, so you may want to think twice before publishing THAT post when your fifteen year-old may one day find it.
I never want to be a blogger with regret.
And I've seen it done by other bloggers time and time again…to blog about something just for the sake of a popular post at the expense of my children? No thank you.
Until then, I'll continue moving forward and work through this blogging learning curve to create content that I can live with – the kind of content that even years from now, my children can live with, too.