The following is a sponsored post.
I never knew I could possibly love another human being as much as I do. One look into the eyes of my own children and my life changed forever; I would never look at the world the same way again. Becoming a mom has changed my life in ways I never thought were possible and has shown me how much courage, resilience and compassion I have for moms everywhere.
When my kids reach small victories, my heart sings. When they go through tough times, my heart breaks alongside them. Having children of my own, I have so much respect and admiration for my own mom. It's amazing how cyclical life is, isn't it?
Being a mom is one of the greatest gifts that I have ever been given…an opportunity to love, nurture and guide another human being. As a mom, I have put the needs of my children before my own – because that's just what moms do.

Johnson & Johnson® is an amazing brand that is striving to continue to do so much good. So when the company developed the #ForAllYouLove initiative, I was thrilled to help support and promote it. The following one minute video is a wonderful example of the campaign:
In celebration of Mother's Day, JOHNSON'S® Baby has established JOHNSON'S® Baby CARES Care Cards, a digital e-card platform that encourages moms to share positive messages of encouragement with other moms across the country, while simultaneously supporting Save the Children®. 

Want to get involved? You can help, too!
Simply pick and share a card filled with messages of reassurance for a mom in your life on Facebook here. For every card sent, shared, or liked, JOHNSON'S® Baby will donate $1.00 to Save the Children® (up to $150,000) to benefit early childhood education programs that foster education and reassurance for new moms. These cards will not only spread encouragement to moms throughout the country but will also provide moms in need with the skills and knowledge to successfully support their child's growth.
For every Theta Mom® out there – this one's for you: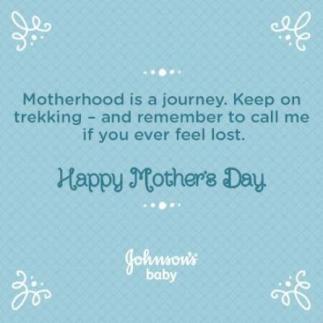 Now go send a card to a Theta Mom® in your life to brighten her day and  JOHNSON'S® Baby will donate $1.00 to Save the Children®. Wishing you all a very Happy Mother's Day!!
Disclosure: I was compensated for my participation in this program. However, all thoughts and opinions expressed are my own. For further details, visit the full disclosure at Theta Mom®.