The holidays are here! It's no secret this is one of the busiest times of the year as we celebrate with close family, friends and entertain guests. It's also the time of year when we open up our hearts and homes – which means some serious cleaning before guests arrive and of course, when the parties are over. So once again, I teamed up with Shark to test out their latest product which has revolutionized the industry since it has re-engineered the full size vacuum.

Meet the Shark Rocket™ one of the most versatile, lightweight and high-performing vacuums on the market today. Whether you're looking to purchase a new vacuum or surprise someone on your list this season with a special holiday gift, you must check out this new product.
                                   Features Include: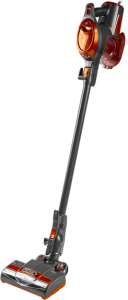 2 Speed Brushroll
Easy Emptying Dust Cup
Cleaning Wand & Washable Filters
Storage Hooks
Wall Mount Storage
Extra long 32′ cord
Swivel steering with no loss of suction or power
Deep cleans carpets, rugs and bare floors
This vacuum is the most lightweight vacuum I've ever used – but don't think this lightweight machine can't do the job because it absolutely can! Shark Rocket™ is advertised as being as powerful (if not better) than a full size Dyson, but the beauty in this machine is that it is so versatile without the heavy weight of a full size vacuum. Whether you are using it to clean drapes, vacuum the staircase, or up on those high ceiling fans, this product does it all. The added cleaning tools that coordinate with this product snap easily within one click, so you can get to those specialty areas in a cinch.
We have mostly hardwood floors in our home, but in the rooms we do have area carpeting, I love the fact that this vacuum is slim enough that it rolls and slides easily underneath the bed! I can actually vacuum under the bed without an issue whereas many other vacuums are too bulky and big to perform on this area of carpeting without having to physically remove the bed. The other favorite feature for me is there are two settings on the vacuum; one is for hardwood floors, tile and non carpet areas and the other setting is for carpeting and area rugs, so you can also use this product on any floor!
Finally, I also love how compact this product is, especially for easy storage or when you need to carry it up and down the stairs. The swivel steering gets in and around every corner so it really gets the job done well, even in those hard to reach areas. It handles beautifully with such easy maneuverability. I highly recommend this vacuum to anyone who is looking for the power and versatility without all of the added heavy weight.
You can purchase the Shark Rocket™ here and follow Shark on Facebook to stay up to date with the latest product information.
Disclosure: Theta Mom® abides by word of mouth marketing standards and believes in honesty of relationship, opinion and identity. I received the Shark Rocket™ from Alpaytac, Inc. to facilitate this review. However, all thoughts and opinions expressed are my own.