As a Theta Mom® of two, I am always trying to get my hands on innovative toys and the kind of technology that encourages creative thinking and problem solving. I am thrilled when I find products or toys that have been designed to introduce my children to something new – a chance for them to explore different concepts and ideas; the kind of company that is developing toys which provide strong educational value.
As you learned from my last post that Kids are Learning How to Code, it's no surprise that kids (especially girls) are seriously tapping into their STEM (science, technology, engineering, and math) skills. Well, move over boys. Girls are finally getting the chance to show the world what they're made of. This has been made possible with the help of strong female leadership, those like the creator of an innovative toy company that is disrupting the pink aisle.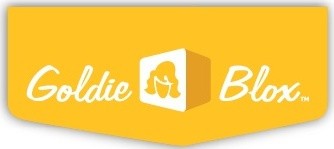 Meet Debbie Sterling, the founder and CEO of GoldieBlox. Debbie grew up in a small town in Rhode Island and didn't know about engineering until her senior year of high school. Four years later, she graduated with a degree in Mechanical Engineering and Product Design from Stanford University. However, she was always concerned there were such few women in her program so she decided to do something about it. Debbie started a toy company that introduces girls to engineering at a young age.
Debbie spent a year researching gender differences to develop a construction toy that went deeper than simply changing the color or "making it pink" to appeal to girls like many other toy companies do. She interviewed numerous educators, neuroscientists, parents and STEM experts and also tested her prototype with over one hundred children. She realized that girls love reading and boys love building so she invented construction toys that would contain both of those elements, appealing to girls and making it fun.
Here is a short video of Debbie and her start-up story. If you are a mother of a young girl, you need to watch this video.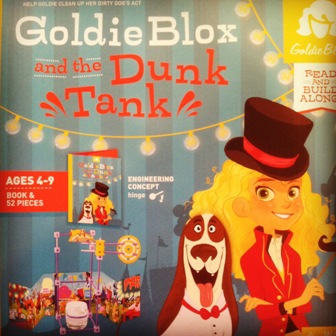 I began using GoldieBlox with my Kindergartener. I sat with her and we read the Dunk Tank story together. We then looked at the instructions and started to build step-by-step.
My daughter LOVES it. She definitely needed help building the structure, but after we did it several times together, she was confident to begin creating on her own. I saw the joy and excitement that beamed from her each time she placed the tools together to make her creation come to life. I also saw times when she was challenged – when something didn't fit properly or when she needed to make adjustments. I watched her go back to the instructions to see where she needed to make changes to her design. All of this was happening and as a mother, I couldn't be more thrilled to introduce my young daughter to the kind of product that fosters a love for science, simple machines, and engineering. She's already asking what we can build next!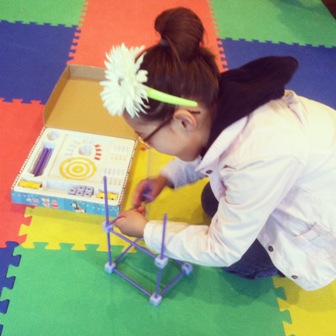 Our young girls can be anything they want to be – and they are so much more than a princess as this company proclaims. Like the next mom, I also love pink and all things girlie but I know my daughter has so much more potential than to be another pretty face. Our girls are smart, innovative and strong – and this is the very message I want to instill in my daughter. GoldieBlox helps to cultivate that message. The main goal of this toy company is to get girls thinking and building, giving young inventors the tools they need to create amazing things.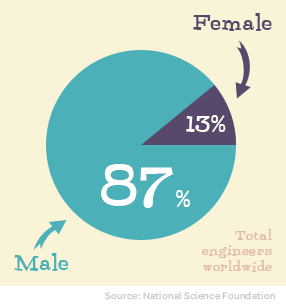 "In a world where men largely outnumber women in science, technology, engineering and math…and girls lose interest in these subjects as early as age 8, GoldieBlox™ is determined to change the equation. By designing a construction toy from the female perspective, we aim to disrupt the pink aisle and inspire the future generation of female engineers. We believe there are a million girls out there who are engineers. They just might not know it yet. We think GoldieBlox can show them the way." -GoldieBlox.com 
Need more inspiration? Check this video out for yourself. You'll see the power of young girls hard at work. This is Your Brain on Engineering:
You can purchase the GoldieBlox Dunk Tank and also shop the full line of GoldieBlox products.  Follow GoldieBlox on Twitter and Facebook to stay updated on the latest GoldieBlox news and information.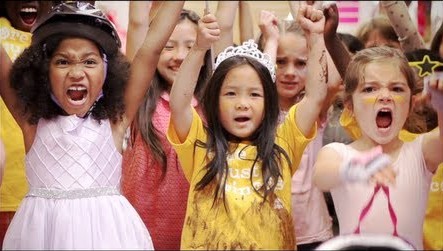 Lastly, don't ever underestimate the power of girls – they are more than just a princess, they are smart and innovative with the kind of influence to change the world. And I am proud to say I am a mother of one of them.
Theta Mom® abides by word of mouth marketing standards and believes in honesty of relationship, opinion and identity. I was provided a GoldieBlox™ Dunk Tank kit for review. However, all opinions expressed are my own and the content of this post was not influenced.