I have been an avid spokesperson for the momAgenda brand, partnering with Nina Restieri to lead and manage a talented team of women called the Council of Media Moms for the last five years. Currently, Nina is seeking established digital influencers to represent her brand through a Brand Ambassador program.
Are you an organizational freak like me? Do you love opening a crisp, brand new planner and get totally excited filling in important dates and appointments? Or maybe you are not the best organizer but you are on a quest to live a more organized life? Well, we're looking for you!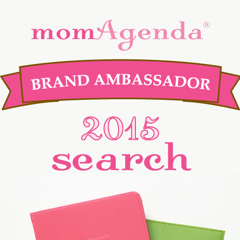 momAgenda® is accepting applications now through the end of the month. For compensation information, full details about this program, and the benefits of being a momAgenda® Brand Ambassador, be sure to check out the momAgenda website. Please help us spread the word on social media and tag any of your updates, posts, and photos with #momAgendaCOMM
Sample post or tweet: Have you heard? @momAgenda is seeking Brand Ambassadors! Details and application: http://www.momagenda.com/council-of-media-moms-application #momAgendaCOMM
Thanks for your support – we look forward to connecting with you!