Beth from The Confused Homemaker recently tagged my in My Seven. If you haven't met Beth, you need to go check out her blog! She was one of my very first followers here at Theta Mom and she is such a great bloggy friend.
So here's the deal with this tag: I must describe seven things about myself (seven things you don't already know) and then tag­ seven oth­ers to do the same (if they are will­ing to accept the challenge). So, here goes…
1. My husband and I vacationed in Sicily for a few summers before our kids came along. Most of his family lives in Sicily and his parents still have a house there. This is the view from the top floor of the home. The Sea is about 3 blocks away and it takes about 1 minute to walk to the beach.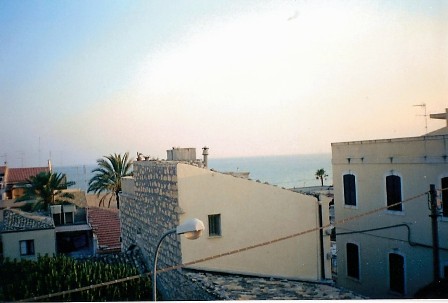 2. As you probably guessed from #1 above, my Mother-In-Law speaks very limited English…did I mention we have the BEST relationship?
3. Sticking with the Sicilian theme here, I sometimes joke about my husband and there are many days he totally annoys me (what husband doesn't) but I truly did marry my best friend. When I see pictures of him with our children it not only melts my heart, but it reminds me that I married a good man, even though he sometimes drives me crazy!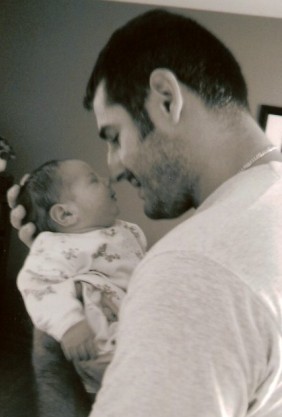 4. A piece me died in November 2008 when my Nana left this Earth. She was one of the most influential and remarkable women to have ever entered my life. I think of her every single day.
5. I grew up at the Jersey Shore but my life reflects nothing of that portrayed on MTV's new show. Almost every cast member is from everywhere except the Jersey Shore (so doesn't that explain it)? And although it is such a train wreck to watch, I am sucked into it week after week.
6. Right in line with Halloween, Christmas is one of my favorite holidays. NYC is the ultimate place to visit during the holiday season.
 7. I am a New York Giants fan. During the football season, I try to get the kids dressed up in their NY Giants gear, especially on Sunday. This season has been terrible for NY but once a fan, always a fan.
Now this is when I am supposed to pass it on to 7 bloggers. But I decided to tag double that number since the following blogs all have one thing in common:
When Did I Go From Kid to Grown-Up?
Organic Motherhood with Coolwhip
They are all new Theta Mom readers! Recently, I've had the pleasure of getting to know these ladies a little better, so here's your chance to check them out as well!