We all know the beginning of January marks a brand new year in which many resolutions are attempted. Some are met with great success and others seem to fail quickly.
For me, this time of year also reflects the sudden urge to clean…like the whole the house. I feel the need to open every drawer, closet door and kitchen cabinet in my home. I get the cleaning bug for some de-cluttering and reorganization. Especially since the holidays have come and gone, our entire basement has been consumed with toys. Not only did Santa swing by with his bundle, I have a very large family and every single one of them bought gifts for my children which they happen to do every year.
Every single year.
You can imagine how quickly the toy shop has engulfed every corner and space in my home. Coincidently, I received an email from author Lea Schneider who inquired about my interest in checking out her book Growing-Up Organized.  Not only is she a working mother of 3, she's a professional organizer so of course I wanted to gain some perspective and add some more tips to my de-cluttering and reorganization mission!
Her book is a hands-on guide where she provides practical application especially for busy moms. She even explains how to get your children involved in the process. There is a plethora of knowledge and advice throughout this book from a time management perspective all the way to understanding why we have clutter in the first place. She also suggests how we can implement change by including worksheets, goal setting tasks, planning materials and other resources in the book to get you started. Her website Organize Right Now is also a great place to begin the organization mission. After reading Chapter 7: Staying Tidy, I was totally inspired to begin my own clean-up mission.
After taking a good look at our basement, I grabbed my 4 year-old son with a plan. We talked about the fact that he has so many toys that he's out-grown. He's either too big for them or he just doesn't play with them any longer. And since they are not a good fit for his baby sister, there really is no need to keep them. As we were discussing this toy drive, my son began to show interest and was ready to take on this clean-up challenge with me. Although he clearly expressed his need for being the person in charge of choosing the toys that would be donated (under my supervision of course), after some real heart-to-heart talking, he got it.
He really got it.
He liked the idea that another child who doesn't have as many toys as him would have fun playing with them. I saw his eyes light up when he realized he would be doing something good. This quickly became much more than just a simple clean-up effort. My son was actually taking note that he was part of a process that would pass a little joy onto another child and I could tell this made him proud.
And so it began. He started cleaning up his stacks of books and games…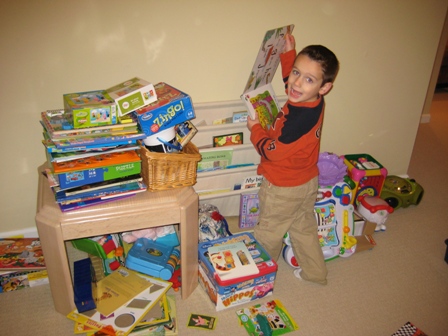 And then he moved toward the buckets and shelves…to three other areas in our basement where he made piles of toys to donate.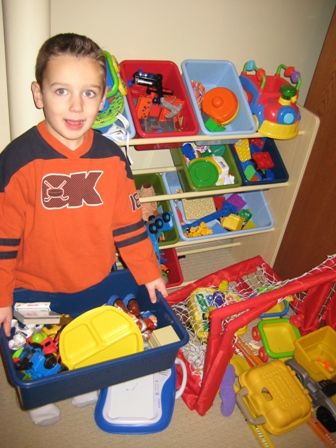 When we were finished, we had three full garbage bags of toys ready to get into the hands of other children (and my basement never looked better)!
I can't believe my madness for keeping a clean and clutter-free home turned into a real teachable moment for my son.
So thank you Lea Schneider, for giving me the motivation to jump-start some organization in my home and involving my 4 year-old in the process. This experience has led to something much bigger, something my son will remember for years to come.