I still cannot believe that Christmas is a mere few days away and it's usually right around this time that the panic begins to set in. But this year I got smart. You see, my mom came over on Sunday to watch the kids for me (all day) and I was able to lock myself in the basement and just wrap. I wrapped for hours.
And the payoff?
I am done. Right down to that last gift. Wrapped. Sealed.
Done.
So now it wouldn't be a holiday in total Theta Mom style without sharing some recent #WooHoo and #Lame moments. If you missed the previous installment of Woo Hoo and Lame, be sure to check out that post. Be careful though, it's #addictive.
I love our "fake" Christmas tree adorned with all of our kids' little hand-made ornaments. #woohoo
We went fake ever since our last real tree did this when we were first married: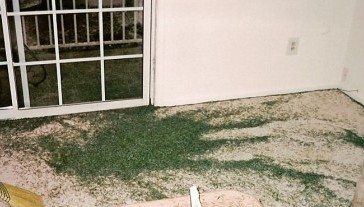 #lame
My kids love Christmas and every tradition we set for them. #woohoo
It becomes a little annoying when my two year-old redecorates the tree and every ornament she can reach along the bottom. #lame
I thought I was totally done shopping last week. #woohoo
That was until I realized I still had three peeps on the list. #lame
I always plan in advance to complete the Christmas cards and get them done early. #woohoo
Yet, I always misplace the list of addresses, every single year. #lame
I LOVE sending and receiving Christmas cards. #woohoo
But I can totally do without that infamous Christmas "letter" or poem stuffed inside the card. #lame
I love making my favorite Christmas cookie: Snowballs #woohoo
But I must be sure to make them nut-free since my son couldn't eat them otherwise. #lame
I love, love, love Christmas music. #woohoo
But as of December 26th, it's like already over. #lame
My kids adore our tree and enjoy spending time each night to admire all of the lights. #woohoo
We'll be taking it down in like two weeks. #lame
Ok, totally off topic but if you read my recent drama about the Toddler Bed Fail, I have you know that Super Nanny would be proud. After six hellish mornings and grueling days of no sleep (as my child repeatedly cried hysterically and got out of the bed), she is now napping during the day again like a champ. That gets the biggest #WOOHOO of all. Yes, I'll shout it to the rooftops #WOOfreakinHOO
Although last night, she woke up at 2 am out of the bed crying. #lame
By the way, I watched my son sing at his Christmas concert and I have to tell you that children remind us of the true spirit of this holiday. They really are the blessings in our lives. #woohoo
I am looking forward to unplugging for a bit and enjoying every ounce of my family and kids…which is also deserving of another fabulous #woohoo
So from my home to yours…..
Have a very Merry Christmas!!!
xoxo