I often get the questions asked of me, "What continues to inspire you…where do you get ideas for your blog posts…where do you continuously draw inspiration from?" So, I thought this would be the perfect time to share my three favorite sources of inspiration.
1. Photography: Whether it's a photo of a gorgeous floral arrangement or a candid shot of a child, I am easily inspired by a really good photograph. And sometimes, the inspiration may not come from the "object" of the focal point of the lens, but rather the symbolism that the photo depicts – whether it pulls at the heart strings or resides from a political, religious or even philosophical standpoint.  When I came across this photo of Carrie Bradshaw holding a baby, I instantly saw the dialogue beginning in my head of the post that needed to be written.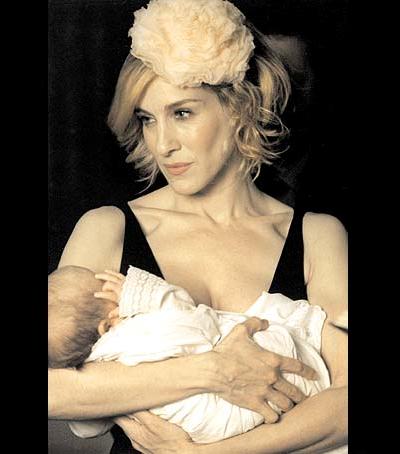 One simple look at this photograph and I was immediately inspired to write – and to be honest, it's one of my all time favorite posts I've ever written on my blog: Carrie Bradshaw would be a Theta Mom. Yes, photography will always be a big source of inspiration for me.
2. Books, Blogs & Media: Reading something I stumble upon (whether it's through a blog or other forms of literature) are other sources of quick inspiration. When an author poses some great questions about a particular topic that is relevant to me, I am inspired to write about it. The media also constantly gives me great blog fodder. Whether it's found through television or in print, if it pertains to my life and I have an immediate connection to the content – I am inspired. For instance, when I read an article and survey that came out of Forbes Woman and The Bump, it clearly hit home for me and apparently, it touched a nerve with every reader as well: What is the Ideal Age to Become a Mom?   
3. Life Experiences: My final secret source of inspiration is you guessed it – my own life. It could be the simple routine things that happen on a daily basis as a mother to the crazy world I find myself in as a WAHM, there are amazing blog posts just waiting to be written at every turn around here. One of my favorites is Birth Order Parenting – pretty much because it sums up the fact that when I write about motherhood, I realize it's sometimes the mundane things that we can ALL relate to that provides an instant connection. In the end, this sort of inspiration brings the whole blogging process full circle for me.
Now I would love to hear from YOU – what are your favorite sources of inspiration for your blog?