Many of you know I took a blogcation recently. This meant no writing, publishing or promoting a single word from my blog in that time.
In the nearly three years I've been blogging, this was the FIRST time I didn't post in over two weeks. That's right, two weeks away from posting AND the nine million other things that come along with owning and publishing a blog.
Two full weeks and I have to tell you, it was a much needed break for me.
It even gave me the inspiration and motivation to chop my hair and bring some Theta Mom moxie back into my life.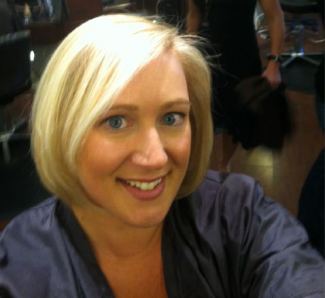 In the time I was away, I reconnected with my family.
And I realigned my priorities.
Whether you are a veteran blogger or a newbie who has been blogging for less than several months, this issue is going to hit home for you at some point or another and it will continue to creep up time and time again as you continue to blog. And when you add in the oodles of time spent on various social media sites in addition to writing, it becomes harder and harder to strike some sort of online balance – but it is SO necessary.
A great example is when I was recently sucked into the Pinterest black hole. I finally created an account after so much buzz about the site and the first night I logged in, I was on that thing for over three hours.
Three frackin hours.
It's an amazing site, but there's a big problem. I just don't have the time for it all – not when I'm running a blog, a business and raising a family.
Once again, I've come to realize that I have to make decisions that make sense for me and MY blog. It's not based on what works for the blogger next to me or the blogger after that.
It's what continues to work for ME.
Since my blogcation, I've cut back on my time spent on some social media sites – the ones that weren't working in some way for my blog and my business. I can't continue to put time and effort into a something that doesn't show me some sort of return – whether it's referral traffic, the ability to build relationships, share and find great content or network with others. If the site becomes nothing more than a hobby, I have to treat it as such and move on.
Some swear by Pinterest and that's awesome. Some only use StumbleUpon and have tons of success. Some strictly use YouTube or LinkedIn and I can go on and on…the secret is finding the site(s) that work for you and invest your time accordingly and don't get caught up in all of the hype just because it may be working for others – stick to what you know and continue to build upon what works for YOU.
Which brings me back to my whole blogcation point again.
I needed a break.
I was on social media overload.
And the time away from my blog reminded me of a few very important things:
I love to write.
I love, love, LOVE to write.
But when you add in the time and pressure of promoting posts, obtaining additional subscribers and maintaining a loyal readership by staying active on social media really begins to blur the lines…
The fact is that owning and publishing a blog IS a job – but WANTING to be here not feeling like I HAVE to be here is the big difference. And I'm happy to say I am in a good space again.
In the very early part of my blogging career, I obsessed over obtaining new readers. Soon after, I was so intent on increasing traffic hoping not to land in bloggy burnout and most recently, instead of playing the numbers game I was all too concerned with making sure I had that CONSTANT social media presence who knew no boundaries.
I've come to see that you absolutely need to create some boundaries or this social media space will eat you up alive.
You need to set limits.
You can't ignore the things that are important to you.
You can't neglect the mundane things that have to get done. Like cleaning the house, doing the laundry, or cooking once in awhile.
Above all else, YOU NEED TO LIVE YOUR LIFE OUTSIDE OF YOUR BLOG.
Final words to note?
I am writing for ME again.
And those that read Theta Mom® who want to continue to read Theta Mom® will *still* be here.
Two week blogcation or not.